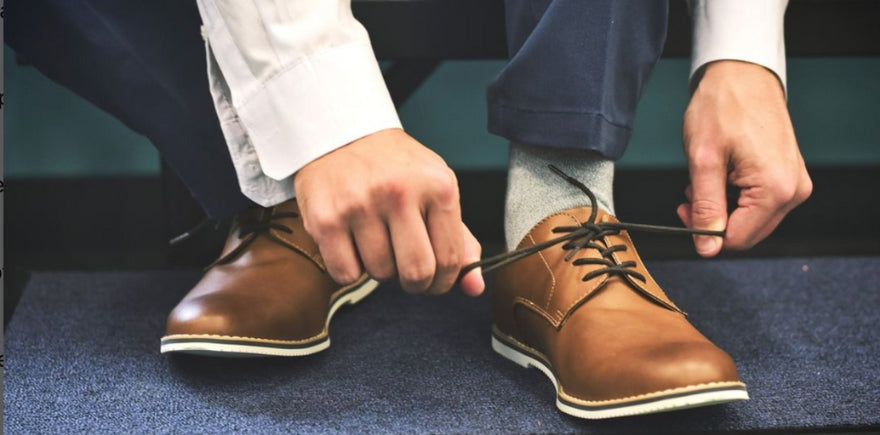 Insoles for Men's Dress Shoes: 3 Reliable Choices
Insoles can help relieve many types of foot-related pain and discomfort, but if you've used them before, you've probably learned that not all insoles are created equally. 
At Tread Labs, we understand the impact such discomfort can have and how essential the right insoles are to improving your quality of life. Above all, we believe that everybody deserves to enjoy life on their feet.
To this end, we've curated this list of three of the best insoles for men's dress shoes to help narrow down your choices. But before we dive in …
The Basics
Orthotic insoles offer your feet the support they need to stay healthy, especially if you spend long hours on your feet. 
Tread Labs insoles offer all the benefits of medical-grade insoles without the sticker shock of custom insoles.
If you have plantar fasciitis, Tread Labs' Insoles for Men's Dress Shoes could be the secret to much-needed relief.
Adding Dash Insoles to your dress shoes will help relieve discomfort from fallen arches and flat feet. 
So, join us as we lift the veil on these amazing insoles, especially if you're: 
New to wearing insoles or need a boost
Have plantar fasciitis or overpronate
Spend hours on your feet every day
Table of Contents
1 - Tread Labs Ramble Short Insoles
If you walk to work or spend hours on your feet during the day, you need the right orthoses to support your feet and keep them from working harder than they have to. 
Ramble Short Insoles are the perfect solution for dress shoes that leave you sore and exhausted at the end of the day. They help keep your feet healthy by providing your arches with the firm yet flexible support they need.
The insoles feature a ⅔ length design with a 3 mm thick top cover for maximum comfort while leaving enough room in the toe box of your shoes. 
This design feature is a key element that makes them highly effective, even in dress shoes that don't have removable inserts. 
Expert Tip: Check to see if your shoes have removable inserts and be sure to remove them before adding your Ramble Insoles. If your inserts are non-removable, don't worry. Ramble Short Insoles are designed to work in shoes with non-removable inserts.
"... after recurrent issues with plantar fasciitis, I decided to give [Tread Labs] a go … they are much better than anything I've tried before … very pleasantly surprised at how comfortable they are."
- Toby, Melbourne, Australia | ★★★★★
Related: Best Insoles and Tips For Long Hours At Work
2 - Tread Labs Pace Short Insoles
If you suffer from plantar fasciitis, you probably dread the thought of spending any amount of time in your favorite dress shoes. 
Thankfully, this doesn't need to be the case. At Tread Labs, we know you have too much to do to let sore feet stand in your way, and we've come up with the perfect solution: Pace Short Insoles. 
We designed the Pace Short Insole with three key goals in mind:
Extra firm precision fit
Unmatched arch support
Deep heel for reduced impact
The result is a firm, medical-grade insole for men's shoes capable of standing up to the battles that corporate life throws at your feet. Better still, the insoles eliminate the sticker shock of custom orthotics.
Pace Short Insoles help improve your balance and stability while easing any discomfort caused by plantar fasciitis, overpronating, or a heavy gait.
They help eliminate the pain or anxiety associated with putting on your dress shoes every morning, so you can start your day on the right foot.
The ⅔ length and removable top covers add to your comfort and make finding the perfect fit a breeze. The reduced footprint also leaves plenty of room in your shoes, taking the comfort level one step further. 
But that's not all; Pace Short Insoles, like our other insoles, come with a million-mile guarantee.
If they ever crack or deform, we'll send you a new pair, no questions asked. So you can rest easy in the knowledge that with Tread Labs Insoles for Men's Dress Shoes, only the best make the cut.
"I've been suffering from heel pain from plantar fasciitis for several weeks. These insoles have provided significant pain relief right from the get-go."
- B Land. Phoenix, United States | ★★★★★
Related: Best Insoles For Plantar Fasciitis Arch Support | Tread Labs
3 - Tread Labs Dash Short Insoles
If you spend extended amounts of time on your feet in your dress shoes, you probably already know how important it is to have the right foot support. 
But you've likely also experienced insoles that have overpromised and undelivered, leaving your feet sore. We know this story all too well, and we're here to deliver much-needed relief with our Dash Short Insoles.
When designing the Dash Short Insoles, we had you in mind—a high-performance professional who spends long hours with your feet trapped in corporate dress shoes. We especially appreciate what a task this can be with fallen arches and flat feet.
As such, we designed the Dash Short Insoles with 1.25 mm thick, 100% carbon fiber arch supports for incomparable, long-lasting comfort. 
The insoles are super thin, ultra-lightweight, and nearly rigid to provide the support you need. They alleviate pain by relieving the amount of pressure on your heels and provide the firm bracing your arches need. 
Better still, Dash Short Insoles come in different firmness levels, so you can choose the one that suits you best. You can even have different options to suit each of your dress shoes and whether or not they have removable inserts.
"These are fantastic … They are great for long hours on my feet, and I like that the tops pull off [when] I need to clean them."
- Megan N., Lexington, United States | ★★★★★
Check out our most popular Insoles for Men's Dress Shoes to suit your every need.
| | | |
| --- | --- | --- |
| Rambles Short Insoles | Pace Short Insoles | Dash Short Insoles |
Discover Tread Labs: Your Partner For All Human-Powered Activities
After two decades of creating exceptional footwear, Mark Paigen founded Tread Labs in 2015 to raise the bar for over-the-counter orthotic insoles. 
Since then, Tread Labs has made all kinds of footwear exceptional and changed the lives of countless people with their innovative inserts and insoles for men's dress shoes. 
Tread Labs has achieved this by distilling Mark's decades of knowledge and experience about support, biomechanics, and design to create the most comfortable shoe inserts on the planet.
This is further supported by the principles on which the insoles were designed, which state:
One size does not fit all: We like to say that pants aren't one-size-fits-all, nor should insoles be. Within our range of insoles for men's dress shoes, we have different options to cater to various needs:


Ramble Insoles—which offer firm, flexible support, perfect if you're new to wearing insoles or need an extra kick of energy for tired feet. 

Pace Insoles—which offer extra firm support that's ideal if you have plantar fasciitis, overpronate, or are heavy on your feet and regularly wear constrictive dress shoes.

Dash Insoles—100% carbon fiber, ultra firm support inserts for power users and performance athletes. They're also perfect if you have flat feet or find that regular shoe inserts just don't cut it. 

Beyond that, and even within these three insoles, we have variations to suit your specific needs. As such, each of these inserts comes in four arch heights for the perfect fit.

Like new, on-demand: All of Tread Labs insoles are made with a two-part system; a sculpted arch part at the bottom that offers support and a replaceable top cover for comfort.

This two-part design with a replaceable cover makes it easier to clean and maintain your insoles.

Fresh feet with every step: All Tread Labs insoles are designed to keep your feet fresh and comfy all day. Our top covers are removable (for easy cleaning), resilient, long-lasting, and made from open-celled polyurethane foam.

All this is wrapped in 100% recycled polyester that's PURE antimicrobial treated for fresh-feeling feet all day.
These features and principles combine to make the best insoles for men's dress shoes. But don't take it from us. Here's what a few happy customers have to say:
" … I have flexible arches, so I found [Tread Lab] resources helpful in deciding what insole to choose. After wearing them, they really helped lock down my foot [especially] with ankle instability."
- Justin K., Montreal, Canada | ★★★★★
"I have flat feet and need arch support that fits into shoes without having to rip out the shoe's insole. The Ramble Short Insoles were the perfect solution."
- Mark Proctor, Vienna, United States | ★★★★★
"Pace Short Insoles fit into all my dress shoes … [they] have been a significant part of my recovery from a herniated L4/L5 disc."
- Dean, Wheaton, United States | ★★★★★
Visit Tread Labs today and browse our collection of medical-grade Insoles for Men's Dress Shoes that are perfect for every lifestyle. 
You might also like...