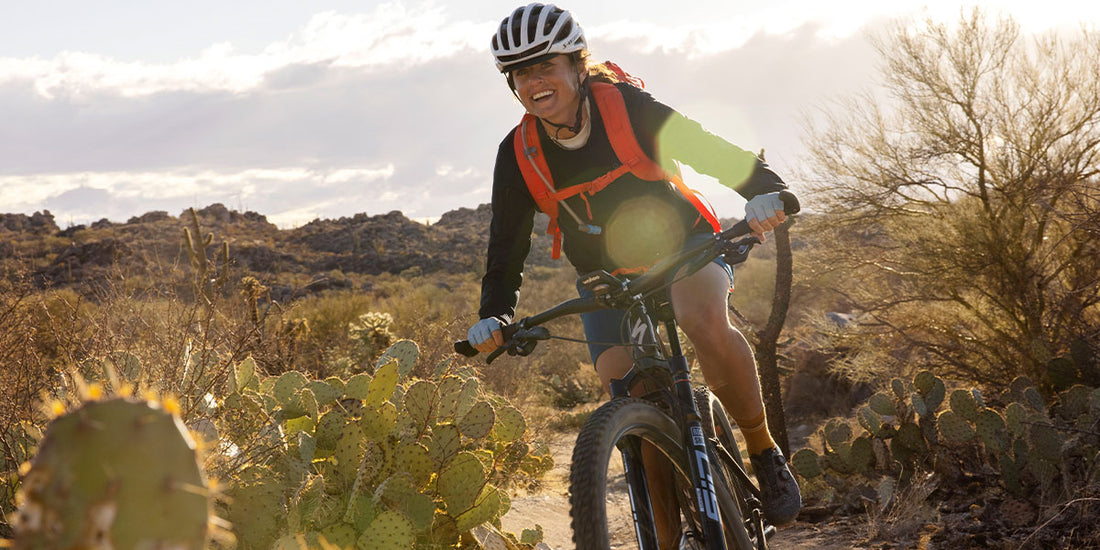 Do Insoles for Cycling Improve Performance? Experts Tell.
More people are using specialized insoles for running, tennis, and other activities, looking for that competitive edge, and cycling is no exception. But do cycling insoles actually improve performance?
Short answer: Yes, cycling insoles do increase performance with the added benefit of protecting your feet's health.
The Basics
One of the best ways to improve your performance is to increase your comfort while you ride.
Cycling insoles support your foot arch and distribute pedaling pressure along the foot, increasing your stroke's power and preventing numbness, pain, and foot health issues, no matter what shoes you cycle in.
If you haven't transitioned to cycling shoes—and we recommend you do—specialized insoles support your arch and heels and prevent your footwear from bending around the pedals (and your feet with it).
If you already use cycling cleats, which are stiff and put pressure on the metatarsus and heel, specialized insoles distribute the force of pedaling and help absorb the shocks of the road.
Table of Contents
Best Insoles for Cycling
Tread Labs offer two varieties of insoles that fit the needs of recreational cyclists, commuters, and competitive pedalers:
Pace Insoles — Medical-grade support with a slim composition to fit whichever shoes or sneakers you use for cycling. These insoles are best for recreational cycling and commuting.
Dash Insoles — Slim carbon-fiber composition for cyclists looking for improved performance. These insoles' thin build fits perfectly in any sports or pro-grade cycling shoes.
Let's review both of these insole alternatives in more detail.
1 - Pace Insoles
Pace Insoles are our medical-grade multi-purpose option. They're designed to provide effective arch support for intensive use of the feet thanks to their unique characteristics, such as:
Semi-Rigid Polyurethane — This gives you the right balance of comfort and firmness as recommended by podiatrists.
Polypro+ Resin Arch Support — This material supports intensive activity in four heights that adapt to your arch: low, medium, high, and extra high.
Slim Full-Length or Short Covers — The thin top cover provides comfort and fits low-volume sneakers or cycling cleats, which are the best options for pedaling.
We recommend these insoles for recreational cyclists or commuters who walk frequently or practice other sports. You can fit your insoles in your cycling shoes, sneakers, or running footwear.
2 - Dash Insoles
Dash Insoles are our high-end, state-of-the-art alternative for competitive cyclists.
The carbon fiber arch frame and ultra-thin covers are designed to provide exceptional support while maximizing energy return and sensory feedback.
These top-performing characteristics noticeably improve your synchronization and response while pedaling, which translates into greater speeds and less risk of injury:
1.25 mm Carbon Fiber Support — This gives our insoles an uber-strong and ultra-lightweight constitution to get top performance with a minimal weight increase.
3–5 mm Ventilate Top Covers — Our extremely thin and breathable covers keep you comfortable and fresh.
Arch Support Frame in Four Sizes — We have a wide variety of arch frames to fit perfectly your feet form: low, medium, high, or extra high.
Increased Lower Grip — Our signature texture design provides additional grip on the insole's bottom to prevent slippage, noise, and friction on your feet.
Dash Insoles are for cyclists who are looking for hyper performance, minimal added weight, state-of-the-art design, and extended durability to cruise any road at top speed. They're used and recommended by professional cyclist Lael Wilcox.
The following table summarizes the characteristics of our Pace and Dash insole lines.
Characteristics
Pace Insoles
Dash Insoles
Uses
Recreational cycling

Commuting
Competitive cycling

Cycle fitness
Arch Support
Semi-rigid Polypro+ arch frame for extra-firm support
1.25 mm carbon fiber arch frame for ultra-firm support
Covers
3–5 mm high-density open-cell polyurethane foam
3–5 mm extra high-density open-cell polyurethane foam with forefoot ventilation
What Are Insoles?
Insoles have been used for millennia since the first travelers realized they needed something to provide them support and relief while walking long distances.
Modern insoles—especially good ones—apply proven biomechanical principles in their design to maximize comfort, foot health, and energy expenditure for a myriad of activities, such as walking, running, or sports.
For cycling, insoles increase performance by providing support and comfort (which helps us move better for longer), and optimizing energy transmission from our muscles to the pedals.
Common Features of Tread Labs Insoles
But not all insoles are created equal, and not all meet cyclists' specific needs. Tread Labs insoles have key characteristics that make them especially capable of improving your cycling performance.
1 - Provide Firm Support
There must be a firm connection between your legs, feet, and pedals to maximize power transfer from your muscles to your bike's wheels. Anything that bends wastes your energy.
Therefore, insoles that don't curl or twist are the best to keep a steady connection between your feet and the pedals as your strokes become stronger.
Tread Labs insoles provide firm support in any of their varieties thanks to their Polypro+ molded arch support, and their high-density polypropylene top cover.
2 - Perfect Extension of Your Feet
For efficiency, comfort, and health, your insoles must fit both your feet and shoes perfectly.
Studies show that feeling close and continuous touch with your shoes and the pedals increases your proprioception (your brain's awareness of those parts of your body that are receiving sensory feedback).
Proprioception helps keep a steady connection between your brain and your feet, which improves your pedaling, and thus, your speed on the bike.
Your insoles should snug perfectly between your feet and your shoes, so the three stay tight as one, improving your proprioception.
Tread Labs technology keeps your insoles close to your feet and shoe, maintaining perfect contact between the two without slipping. This will give you a precise proprioceptive feeling of the force you're applying, and of your bike's feedback.
3 - Light and Thin
The last thing you want when you're looking to go faster is extra weight and bulk inside your shoe. Cycling shoes and footwear adequate for pedaling have low rise and volume, so there's no room inside for bulky insoles.
Fortunately, good cycling insoles are lightweight and slim. They fit perfectly into your shoes without making your feet uncomfortable or heavy.
Tread Labs insoles are ultra-lightweight. Their Polypro+ or carbon fiber build provides the support and comfort you need by barely adding any weight to your shoes.
4 - Guaranteed to Last
As you fall deeper in love with cycling, you'll go for longer rides and start competing against your marks, which means you'll want to cycle faster and harder.
You're going to need insoles that can endure those long, competitive rides and stay with you as you become a better cyclist, keeping you comfortable, delivering that extra performance, and protecting your feet.
Tread Labs insoles are built to last. The arch support of any of our varieties has a million-mile guarantee, and the top covers last at least a year and can be replaced independently; which means you'll save money in the long run.
What Others Say About Our Cycling Insoles
"Best insole for cycling cleats. I've spent a lot of money trying to find strong supporting insoles for high arches that were also breathable, and with these, I found both!"
— Nathaniel Allen (verified customer)
"Lael Wilcox Cycling Insoles are the best I've used for cycling. The high arch fits me perfectly & I like the modular approach to metatarsal support ... "
— Paul Anderson (verified customer)
"I have tried many insoles: Tread Labs are the best for me. The refurbished are as good as the new. Very happy with all my purchases of Tread Labs insoles."
— Patty A Parvin (verified customer)
The Finish Line
Whether you're a casual or a competitive pedaler who breaks their limits one track at a time—like our partner Lael Wilcox—the right insoles will help you go faster and take care of your feet's health.
The best cycling insoles must provide firm support, create a perfect connection among foot, insole, and shoe, be light and sturdy, and last for a long time.
Both our Pace and Dash insoles deliver in all these areas thanks to their efficient and functional design and top-quality materials. 
Take a look at our wide selection and choose your new cycling insoles today.
Questions? Drop us a line at hello@treadlabs.com. We're here to help.
You might also like...