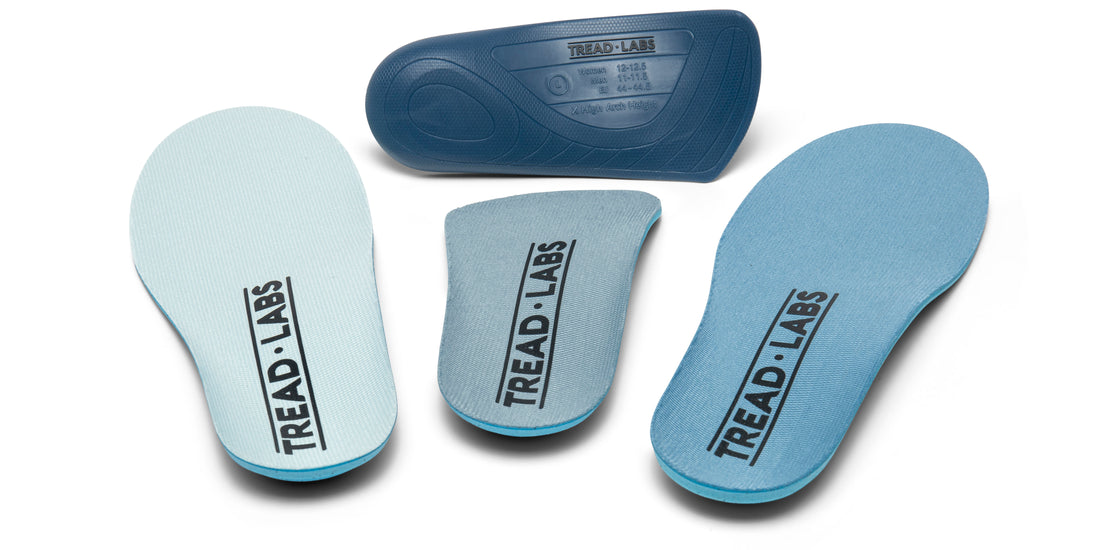 What are Semi-custom Insoles?
When it comes to foot health and comfort, one size definitely does not fit all. That's where Tread Labs steps in with our innovative semi-custom insoles. Designed to provide most of the benefits of custom orthotics without breaking the bank, Tread Labs insoles are changing the game. In this article, we'll delve deeper into what makes Tread Labs insoles "semi-custom" and why they are a fantastic choice for individuals seeking tailored support for their feet.
The Basics —
Tread Labs insoles are available in 4 arch heights: low, medium, high, and extra high.
The range of insoles offered by Tread Labs accommodate all uses-cases from casual comfort, to pain relief, to athletic performance.
Our innovative 2-part system allows you to swap top covers to ensure optimal fit in all footwear styles.
Understanding the Tread Labs Difference
Tread Labs stands out in the insole market due to our commitment to delivering a unique and customized experience for every wearer. Here's how we achieve it:
1. Four Arch Heights for a Perfect Fit
The foundation of Tread Labs' semi-custom approach lies in our offering of four different arch heights: low, medium, high, and extra high. We recognize that arch height is a critical factor in determining comfort and performance. Unlike generic insoles that provide a one-size-fits-all solution, Tread Labs caters to individuals with various arch profiles.
Low Arch Insoles: If you have flat feet or low arches, Tread Labs has insoles designed to provide the necessary support for your specific needs. These insoles can help improve your foot's stability and reduce the risk of various foot-related problems.
Medium Arch Insoles: Individuals with medium arches can also find a perfect match with Tread Labs' insoles. These insoles offer just the right balance of support and cushioning, ensuring comfort during everyday activities.
High Arch Insoles: For those with high arches, Tread Labs' high arch insoles provide the added support required to distribute weight evenly and reduce strain on the arches. This can be a game-changer for people dealing with foot pain.
Extra High Arch Insoles: If you have exceptionally high arches, Tread Labs has you covered with their extra high arch insoles. These insoles are designed to offer maximum support and stability to help alleviate discomfort.
With these four arch heights to choose from, Tread Labs ensures that you can find the insole that aligns perfectly with your unique foot structure.
2. A Wide Range of Styles for Every Use Case
We understand that everyone has different needs for their feet, whether it's daily comfort, pain relief, or athletic performance. To cater to these diverse requirements, Tread Labs offers a range of styles:
Casual Comfort Insoles: If you spend long hours on your feet at work or simply want everyday comfort, Tread Labs' casual comfort insoles are a fantastic choice. They provide the support needed for prolonged standing or walking without sacrificing comfort.
Pain Relief Insoles: Dealing with foot pain can be debilitating. Tread Labs offers pain relief insoles specially designed to alleviate discomfort caused by conditions like plantar fasciitis, flat feet, or metatarsalgia.
Athletic Performance Insoles: Whether you're a seasoned athlete or just enjoy an occasional jog, Tread Labs has athletic performance insoles to enhance your game. These insoles offer superior support, reducing the risk of injuries during sports and exercise.
 

Ramble Insoles

Essential Support for All-day Comfort

Pace Insoles

Advanced Support for Lasting Pain Relief

Dash Insoles

Ultimate Support for Athletic Performance
3. The Interchangeable Top Cover System: Customizing Insoles for All Shoe Types
Tread Labs goes above and beyond in providing a truly personalized experience for your feet by offering an interchangeable top cover system. This innovative feature allows you to remove the
foam top covers
from their insoles and replace them with different styles, providing optimal fit and comfort for various shoe types.
Regular Insoles for Maximum Cushion
Whether you're gearing up for a brisk walk, hitting the trails in your hiking boots, strapping into ski boots for a snowy adventure, or lacing up your favorite running shoes for a jog, Tread Labs' regular insoles are designed to provide the perfect blend of support and comfort in footwear with removable inserts.
With their precision fit and durable construction, these insoles not only accommodate your active lifestyle but enhance it. Say goodbye to discomfort and fatigue and hello to the joy of enjoying your favorite activities with the confidence that your feet are well-supported and protected.
Thin Insoles for Low-Volume Footwear
If you're an avid cyclist or enjoy sports that require specialized footwear like cleats, you know that these shoes often have a low volume, meaning there's not much room inside for bulky insoles. We have a solution for this.
Tread Labs Thin Insoles are designed to fit perfectly in low-volume shoes. By switching to these thin top covers, you can ensure your feet get the support they need without compromising the fit of your specialized shoes. This means enhanced comfort and performance during your favorite activities.
| | | |
| --- | --- | --- |
|   | | |
| Ramble Thin Insoles | Pace Thin Insoles | Dash Thin Insoles |
Short Insoles for Shoes without Removable Inserts
Not all shoes are created equal when it comes to accommodating insoles. Many dress shoes, boat shoes, and classic Chuck Taylors lack removable inserts, making it challenging to incorporate traditional insoles for added comfort and support.
We offer short insoles specifically designed for such shoe types. These insoles are crafted to provide the necessary support while fitting perfectly inside shoes that don't have removable inserts. With Tread Labs' short insoles, you can upgrade the comfort of your favorite low-volume shoes without any hassle.
| | | |
| --- | --- | --- |
|   | | |
| Ramble Short Insoles | Pace Short Insoles | Dash Short Insoles |
The Flexibility You Need
The interchangeable top cover system demonstrates Tread Labs' commitment to ensuring that their insoles are versatile and adaptable to various footwear styles. Whether you're cycling, dressing up for a formal occasion, or simply wearing your favorite casual shoes, Tread Labs has a top cover option that suits your needs.
This flexibility not only makes Tread Labs insoles incredibly convenient but also cost-effective. Instead of buying multiple pairs of insoles for different shoes, you can use the same base with interchangeable top covers, saving you both money and the inconvenience of constantly switching insoles between shoes.
The Support of Custom Orthotics, Simplified.
What sets Tread Labs apart is our commitment to offering insoles that are as unique as each individual. By providing various arch heights and a variety of styles, we empower customers to find the perfect combination that matches their specific foot structure and lifestyle.
This way, you can enjoy the benefits of custom orthotics without the hefty price tag. Whether you're seeking comfort, pain relief, or improved athletic performance, Tread Labs has an insole tailored just for you.
Say goodbye to one-size-fits-all solutions and experience the comfort and support of semi-custom insoles that truly cater to your individual needs. Your feet will thank you.


| | | |
| --- | --- | --- |
|   | | |
| Ramble Insole Kit | Pace Insole Kit | Dash Insole Kit |