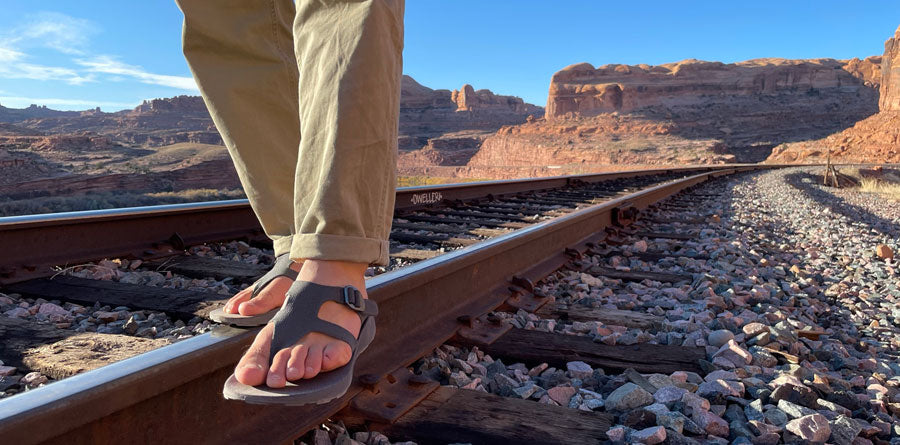 The Ultimate Guide to Sport Sandals: Everything You Need to Know
Sport sandals: are we inventing the wheel with them?
Maybe not. They have been around for thousands of years, at least since the ancient Greek Olympics, circa 700 BC, if not earlier. However, we're making them better than ever before.
Sport sandals have seen many iterations throughout the centuries from the Caliga sandal of Greek athletes, resembling contemporary gladiator sandals, to the boot-like, split-toe Tabi sandal of the Japanese samurai.
Fast forward to the development of vulcanized rubber in 1839, which triggered the advent of the canvas sport shoe. This, together with present-day performance science, puts sports sandals leaps and bounds ahead of the leather straps and metal tacks of ancient sport sandals.
Modern sports sandals, especially the Tread Labs sandal lineup, actually support healthy foot posture and are ideal sandals for foot pain relief for people with an active lifestyle who are constantly on their feet.
The arch support for sport sandals today is a thing of beauty, not to mention other technical design considerations, such as rockers for speed and lug patterns for traction.
Whether you're an outdoor enthusiast and adventurer or you just want to be active while your feet breathe freely, you're spoilt for choice in terms of styles, sizes, and colors of comfortable sport sandals for all day wear.
We'll help you refine your search in our ultimate sports sandal guide, which covers:
Key features to look for in a sport sandal to find what suits your needs
Top sport sandal brands designed with the health of your foot in mind
Tips and tricks for measuring, fitting and maintaining the perfect pair of sport sandals
The Basics
Sport sandals have been around for centuries, but today's version of sport sandal is the perfect mix of anatomical design and high performance materials.
Sport sandals are ideal for activities such as hiking and climbing, walking, and even casual wear giving all-day support.
When purchasing sport sandals look for specialized features, such as contoured arch support, lug pattern and performance fabrics that will enhance your experience wearing the shoe.
Proper fit and maintenance of your sport sandals play a key role in the comfort and longevity of the sandal.
Table of Contents
The Top Features to Look For in a Sport Sandal
There is a plethora of sport sandals to choose from based on your level of activity, taste and foot health.
Choosing the right sport sandal for you depends on various factors, including:
Type of terrain: Rugged, uneven, or slippery
Weather conditions: Wet or hot and dry
Personal preferences: Brilliant colors, adjustable straps, or slip-on convenience
Arch support: The contours will determine whether it suits your foot or not
Activity type: Water based activities v.s. dry activities or low impact v.s. high impact 
Maintenance needs: Easy care materials, such as rubber v.s. high maintenance leather
In the table below, we break down how the above mentioned factors translate to sandal features and which activities they're best suited for.
Activity
Sandal Characteristic
Features To Look For
Hiking and Climbing
Support

Contoured footbeds for arch support
Well cushioned footbed for even weight distribution

Comfort

Breathable materials, such as microfiber suede
Adjustable straps to ensure a snug fit
Proper cushioning to reduce impact and fatigue

Traction

High-quality rubber outsole
Multidirectional lug pattern helps retain stability in uneven terrain

Secure fit
Adjustable straps and 3D knitted uppers mold the sandal to shape the foot for a secure fit to prevent ankle rolling
Water activities
Waterproofing
Synthetic fabrics or rubber materials that can withstand exposure to water without breaking down
Quick-drying
Mesh, neoprene, and microfiber suede have a lower water absorption rate, enabling them to dry faster reducing the risk of blisters and infections
Non-slip soles
Slip-resistant soles with deep tread patterns to ensure safety in wet environments
Drainage
Design allows water to escape from the sandal and air to circulate around the foot
Support

Cushioned and contoured footbed for arch support
Adjustable straps and snug uppers that hold the foot firm

Durability

High-quality materials, such as rubber, EVA and polyurethane
Robust construction, such as direct attach construction

Athletic activities e.g. running or walking
Shock absorption
Thick soles with ample cushioning to protect the arch from impact
Stability
Stable sandal, proper weight distribution, heel cup, adjustable straps
Traction
Non-slip sole with multidirectional lug pattern to ensure traction and easy maneuvering
Breathability
Breathable materials, for example knit uppers and microfiber, to keep the foot sweat free
Casual activities
Style and versatility
Styles and colors that look and feel good in various settings from long sightseeing treks to dinner
Arch Support
Cushioned footbeds, flexible soles, proper arch support
Breathable materials
Fabrics, such as suede wick away moisture, preventing foot odor and reducing the likelihood of fungal infections or blisters
Find Your Perfect Fit with These 4 Comfortable Sports Sandals
From a sea of sport sandals, we delve into four sandals for men and women that stand out as supportive, durable and highly versatile staples.
Women's Albion Sandal
The Women's Albion Sandal is cute enough for a dressed up outfit but by no means is it flimsy. Tread Labs pulled out all the stops to make it extremely functional and comfortable.
This sandal is built to work hard so your feet don't have to.
Let's get into why this supportive recovery sandal is the staple you didn't know you needed.
Anatomically sculpted footbeds: The arch support is properly proportioned to distribute weight evenly and absorb shock. The arch is also high enough to prevent overpronation making this the ideal supportive sandal for plantar fasciitis and other conditions that cause foot pain.
Soft 3D knit upper: A seamless, stretchy, and lightweight fabric provides a sock-like feel that allows the sport sandal to adapt to the shape and movement of the wearer's foot.
Microfiber suede footbed: Perfect for summer and water sports, the microfiber wicks moisture away and is fast drying. Say goodbye to the gross squelch!
Ultra lightweight midsole: Polyurethane midsoles provide the Goldilocks balance of cushioning between soft and firm.
Low profile aluminum buckle: Not only is the aluminum buckle unbreakable, its low profile makes it sleeker, lighter, more comfortable and unlikely to catch on anything during those long, hot days on the trail. The adjustability ensures a custom fit.
Built for speed: Its lightweight aside, the rocker design eases the heel to toe transition, helping your run faster and easing the pressure on the ball of your feet.
Water friendly: Its materials, rubber, microfiber suede and polyurethane hold up well when dunked in water and dry fast.
Five colorways: You can express your personality with this sport sandal, whether you like to be bold in Ruby red, or cool in Deep teal and Leaf green. It's also available in a versatile black and adventurous Zebra colorway.
"These babies make you feel like you're wearing NOTHING, but still allow you to wander far and wide without tiring your feet … They might be my new holy grail!"
- Julie Krause, Verified Buyer, Peoria, United States
Women's Covelo Sandal
Our human feet aren't built to walk on hard surfaces all day because the impact can cause foot, joint, and back pain as well as injuries, such as shin splints and plantar fasciitis. That's where the insanely comfortable Women's Covelo Sandal comes in—your daily sport sandal.
Here is a brief explainer on plantar fasciitis:
Now the long hours on a concrete floor at your standing desk or pounding the asphalt with your dog don't have to leave your feet achy.
What makes this sandal insanely comfortable and versatile?
Amazing arch support: Based on years of experience creating semi-custom insoles, the arch support contours, deep heel cup and cushioning in the sandal offers improved alignment and all-day comfort.
Soft and lightweight: The polyurethane midsoles coupled with the microfiber suede footbeds provide the soft lightweight comfort that feels like a hug.
Slip on convenience: They're easy to slip on and go without sacrificing the snug fit as the side buckle allows you to adjust the fit of the uppers.
Cool and comfortable footbeds: Microfiber suede footbeds draw off moisture ensuring your feet are cool and dry throughout.
Five colorways: You're spoiled for choice with five color options, including summery Lagoon blue, Rock gray, Leaf green, Fire red range and the ever versatile black.
"By the second or third day, I noticed my feet, knees, hips, back, and shoulders had become straightened and smoothed out. Haven't had that feeling in years. No more pain."
- Verified Buyer, Waimea, United States
Men's Albion Sandal
When you're caught between your feet wilting in your sneakers and the need for arch support, there's only one thing you can do—whip on your Men's Albion Sandal.
Here's why.
Incredible arch support: Anatomically contoured footbeds with a deep heel cup keep the arch and the foot overall in the correct position that provides comfort and relief, making them a fantastic alternative to orthotic sandal inserts.
Supple polyurethane midsoles: Give the much needed bounce to your stride, making them the ideal cushioned sport sandals for runners and super active people.
Adjustable fit: Unbreakable aluminum buckles and a back strap give the sandal an excellent fit.
Water-ready materials: Durable, non-slip rubber makes the perfect base for sport sandals worn during wet sports. The knit uppers and microfiber footbeds complement this well as they're quick drying.
Three colorways: Deep teal, Leaf green and black color options allow you to choose what look suits you best.
"They are undeniably super comfortable. Great recovery sandals after a day on the court or just a hard day on your feet."
- Neil B, Verified Buyer, Fort Lauderdale, United States
Men's Covelo Sandal
The Men's Covelo Sandal is your daily driver for the summer, giving comfort, athletic support, and durability, all in an easy to kick on or kick off design.
Let's get into the features we love about this sandal.
Buttery smooth underfoot feel: Microfiber suede gives you all the buttery smoothness of suede under your feet minus the maintenance.
Adjustable straps to lock you in: The side buckle gives the knit upper of the sandal a more personalized fit.
Subtle yet solid arch support: The footbed contours are shaped to suit your foot and the soft yet firm midsoles provide sufficient cushioning for recovery or long wear, replacing the need for custom sport sandal insoles.
Four colorways: Deep teal, Rock gray, Leaf green, and a vibrant Yolk yellow evoke the four seasons in this summer staple.
"So happy with my Tread Labs Covelo sandals. Bought these just before leaving on a 3 week tour of Portugal, thinking they might be more comfortable than my regular flip-flops. Boy, were they ever!"
- Brian Fallon, Verified Buyer, Lisbon, Portugal
How to Measure Your Feet Correctly for Sport Sandals
The correct fit is essential for comfort. If the sport sandals are too big or too small, it can lead to discomfort or impair your balance and stability. Accurate foot measurement is the first step in finding the perfect pair of sport sandals.
Here's how to measure your feet for sport sandals:
Step 1 - Gather the Necessary Materials
To measure your feet, you'll need the following items:
A blank sheet of paper (preferably larger than your foot)
A ruler or measuring tape
A pen or pencil
Step 2 - Prepare the Paper
Place the blank sheet of paper on a flat, hard surface like a tile or hardwood floor. Place it against a wall or secure it with tape to ensure that the paper doesn't move as you measure your foot.
Step 3 - Position Your Foot
Stand with one foot on the paper, making sure your heel is against the wall or the edge of the paper.
Distribute your weight evenly across your foot to get an accurate measurement.
Step 4 - Trace Your Foot
With a pen or pencil, trace the outline of your foot as closely as possible. Keep the pen perpendicular to the paper in order to capture the most accurate outline of your foot.
Step 5 - Measure the Length and Width of Your Foot
Using a ruler or measuring tape, measure the length of your foot outline from the longest toe to the back of your heel.
Record this measurement as your foot length.
Next, measure the widest part of your foot outline, usually across the ball of your foot. Record this measurement as your foot width.
Step 6 - Measure the Other Foot
Repeat the process for your other foot, as it's common for one foot to be slightly larger than the other.
When purchasing sport sandals, always base your size on the larger foot to ensure a comfortable fit.
Step 7 - Find Your Sport Sandal Size
Using the measurements you've taken, consult the sizing chart provided by the sport sandal vendor.
Keep in mind that sizing often varies between brands, so always refer to the specific brand's size chart.
Consider extra room in case your feet swell during activities.
Step 8 - Try on the Sandals
Once you've determined your sport sandal size, try them on to ensure they fit properly.
Walk around and perform some of the activities you plan to engage in while wearing the sandals.
Make sure there's enough room for your toes to move freely and that your heel doesn't slip out when walking. A good rule of thumb is to allow about ¼ –½ inch of space in front of your toes.
Pay attention to any areas that may cause discomfort or irritation, and adjust the straps if necessary.
Did You Know? Feet can change size over time due to age, weight gain/loss, and pregnancy. That's why it's important to measure your feet before each shoe purchase.
Tricks to Ensure the Perfect Fit
Armed with the correct foot measurement, you're all set for finding the sport sandal for you. That said, there are a few tips that can make the search easier.
Try on sandals at the end of the day when your feet are most swollen. 
If you plan to wear socks with the sandals, you should wear them while you fit your new pair. 
Try flexing the sole of the sandal to see how easy breaking it in will be.
If you're prone to sweating, look for a sandal with an absorbent material on the footbed, for example, the microfiber suede in all Tread Labs' sandals.
If you're buying online, check reviews of the sandal regarding fit or whether sizes run small.
Look for adjustable sport sandals for a personalized fit.
Why This Matters: Finding the perfect fit for your sport sandals can make all the difference in terms of comfort and performance during activities.
Common Fit Problems and How to Solve Them
Heel slippage: If your heels are slipping out of the sandal, try adjusting the straps for a more secure fit or sizing down.
Toe rubbing or hitting the end of the sandal: If your toes are rubbing against the front of the sandal or hitting the end, you may need to size up or look for wider options. Ensure there's about a finger's width of space between your longest toe and the end of the sandal.
Flat feet or fallen arches: Look for sport sandals with good arch support to help distribute your weight evenly and reduce the stress on your feet.
Models, such as Tread Labs' Albion and Covelo sports sandals are designed for individuals with flat feet and offer additional support and cushioning. They're a great alternative to sandals with removable insoles.
Blisters or hot spots: These may be as a result of friction caused by ill-fitting straps or footbeds. Adjust the straps to the right tension. Alternatively, wearing moisture-wicking socks can help reduce friction and prevent blisters.
Maintenance Tips to Extend the Lifespan of Your Sandals
Maintenance and cleaning help to prolong the lifespan of your sport sandals, and keep them hygienic and visually appealing. The required maintenance and cleaning needs to factor strongly in your choice of sport sandal.
Think about it: If you're a super chill person who loves to eat life with a big spoon and wing it, the last thing you need is a finicky sport sandal, made of leather, that will crack at the first dunk and require endless coddling to maintain its looks.
Instead, you'll be happier with water-friendly sandals that you can just toss in with your dark wash. Our Albion and Covelo sport sandals hit the sweet spot with this.
While sport sandals are designed to withstand various outdoor activities, they still require proper maintenance and cleaning to ensure their longevity.
Maintaining your sport sandals regularly can help to spot any defects, such as worn out soles, stitching issues, or broken straps, and have them fixed before you're forced to write off the sandal. Tread Labs has a convenient shoe repair partnership to make maintaining your sandals a breeze.
Action: Check the return policy before purchasing sport sandals to make sure you can exchange them if they don't fit properly.
Cleaning and Maintenance Tips for All Sandal Materials
Always check the care label on the sports sandal or the vendor's website since each material requires specific care to avoid damaging it. For example, while our sandals are raring to go after a quick spin in the machine, leather sandals would crack under such treatment.
Here are some tips to follow to ensure the longevity of your sandals, regardless of the material:
Avoid using harsh cleaners and use mild detergents instead.
A soft bristled brush or a soft dry cloth are excellent for removing debris.
For materials that can be wetted, always squeeze out or wipe away excess water.
Always air dry your shoes in a well-ventilated area away from direct sunlight.
Store them stuffed with acid-free tissue paper to ensure they retain their shape.
Store your sandals in a dry, cool place, away from direct sunlight or heat.
Alternate between pairs to allow each pair to dry and air between wears.
Start Your Sport Sandal Collection With Tread Labs
Sport sandals have come a long way and contemporary designs offer versatile comfort and support for outdoor activities, especially in the hot summer months.
Different activities will require specialized features in your sport sandal of choice; whether it be a multidirectional lug pattern for traction while hiking or stylish versatility for casual wear.
The characteristic that carries across the board is proper arch support and cushioning, which will ensure that you can wear your sport sandals all summer long, and whenever you need to give your feet a break.
Lastly, proper maintenance and care are essential if you want them to outlast your wanderlust and carry you home from your travels.
With all this intel, I bet you're ready to start your sport sandal collection on a high note with Tread Labs' sandals, your very own foot support group.