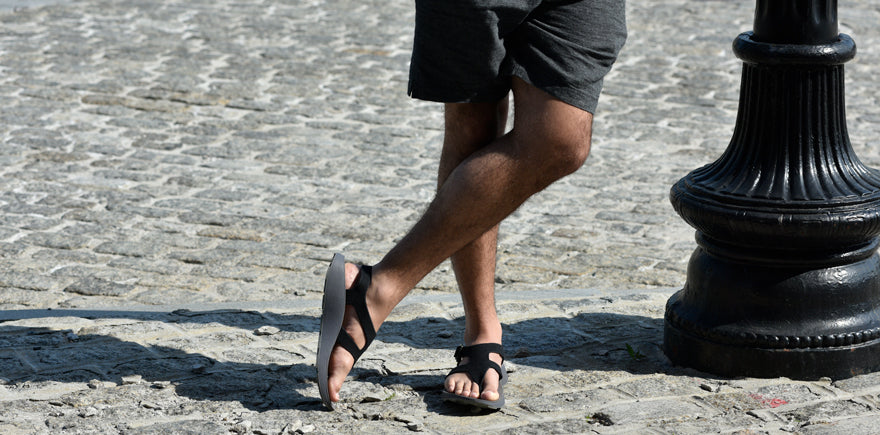 4 Essential Features to Look for in Your Next Pair of Arch Support Sandals
Arch support sandals are the ideal choice if you're suffering from arch-related conditions such as plantar fasciitis (heel pain) and tendonitis (inflammation of the tendons).
However, they're not just for people experiencing pain and discomfort, anyone looking for a quality sandal with a well contoured footbed will find them useful in evenly distributing weight on their feet, nurturing the muscles and bones used while walking, and reducing foot fatigue.
When selecting arch support sandals, the best features to look for are those that provide just the right amount of slip-resistance, cushioning, and shock absorption. It's important to find a balance; neither too much, nor too little.
Otherwise, excessive cushioning can make you feel like you're walking on marshmallows, while insufficient traction on the outsole may not protect you from slips and falls.
The Basics
Arch support sandals help to alleviate foot pain and discomfort caused by medical conditions such as arthritis, which causes stiffness and pain in the feet. The sandals also relieve inflammation caused by a lifestyle that involves prolonged standing or walking.

Prioritize sandals that provide your feet with the right amount of support and comfort. Look for a contoured footbed, a shock absorbing midsole, and adjustable straps. Additionally, consider a breathable material and a durable outsole with traction.

Tread Labs orthopedic sandals

have the same features found in high-performance shoes, the only difference is that they're installed in a sandal. These features work together to optimize foot motion and stability, thereby reducing the risk of overuse injuries.
Table of Contents
With too many sandals available in the market, it's challenging to know which ones you should settle for, but we've simplified that for you.
Here's what you need to consider as you shop for arch support sandals.
Feature 1: Look for Sandals With a Contoured Footbed
A contoured footbed is crucial in promoting overall foot health by providing ergonomic support tailored to your feet's natural shape. 
Such a footbed takes into account your feet's unique curves and contours, on the heel, arch, and ball of foot. It helps them align properly and prevent issues such as overpronation and supination. 
Here is a short video explaining what overpronation is:
A well-contoured footbed should have these characteristics:
The arch should be raised to distribute your weight evenly across your feet, thus reducing pressure points and minimizing the risk of foot pain or discomfort.
The heel cup should cradle your heel to offer additional stability and prevent excessive movement while you walk or stand. 
There should be extra cushioning where the heel and balls of the foot rest to absorb shock and reduce the impact on your joints.
The toebox should be roomy enough to allow your toes to spread out and prevent them from hanging off the sandal's edge.
The material should have moisture wicking properties to absorb sweat from your feet and keep them dry.
At Tread Labs, we make men's and women's pronation control sandals that feature perfectly proportioned arch support to improve your foot alignment.
They'll give you relief from foot ailments, providing comfort that can't be matched by flatter footbeds.
These anatomically sculpted footbeds suit all foot shapes. Even if your arches are high, they're the ideal high arch sandals.
"The extra high arch support has really helped ease the pain in my back and knees."
- Trey Jackson, Verified Customer, Hayward, USA
We've made the heel cups deep enough to keep your feet in position and concentrate the fatty pad under your heel to cushion it better.
As for the footbed's material, we've used buttery-soft microfiber suede, which has several benefits that will make you fall in love with our comfortable sandals.
Check out the wonderful properties of this fiber:
Comforts Your Feet
Microfiber suede footbeds have a smooth, soft texture that provides a comfortable and cozy feel to your feet. It's gentle on your skin, reducing the possibility of irritation or chafing, even when you walk or stand for long periods.
Keeps You Dry and Cool
Microfiber suede has a unique moisture-wicking structure that regulates the temperature, allowing air to circulate freely and prevent moisture build-up on your feet.
If your feet often feel like they're wilting inside your shoes during hot weather, our arch support sandals with microfiber suede footbeds are the solution.
Can Be Treated With Microbial Treatments
When footwear is worn for long periods or during activities that induce perspiration, it creates an environment conducive for bacteria with a fancy name (Staphylococcus epidermidis). However, the same cannot be said of the foul odor they release.
Microbial treatments address this odor, which is a common issue with footwear. They work by inhibiting the growth of the bacteria.
The microfiber suede we use is treated with antimicrobial treatments to prevent the growth of such bacteria, keeping your sandals and feet smelling fresh.
Tread Labs sandals are machine-washable and dry fast. So, If you feel the need to wash them, they don't mind dunking. You can toss them in the wash with your dark load.
Feature 2: Choose Sandals With Adjustable Straps
The importance of adjustable sandals cannot be overstated as they play a crucial role in ensuring a secure fit and comfort for your feet.
If you're just lounging in the house, then slip-ons such as our Men's Covelo and Women's Covelo sandals are ideal. We excluded a backstrap to make it easy for you to slip them on and off. 
For more intense activities such as light hiking—where there's a possibility of your sandals slipping off—a backstrap comes in handy to tighten things up. Our Men's Albion and Women's Albion sandals have a backstrap to give you that extra grip.
There are several buckle options used to adjust straps, the most common being aluminum, zinc, and copper. 
Aluminum buckles are the best choice since they're corrosion-free. Can you imagine the sight if the buckles on your brand new sandals developed rust a few weeks later?
That's why we recommend Tread Labs arch support sandals due to their corrosion-free aluminum buckles.
The buckles on our sandals are also non-slip, meaning that after you adjust the straps to give you a certain fit, the buckles won't slide off and loosen the straps a while later.
"These sandals meet my needs and fit well without the need to adjust anything other than a single buckle."
- Judith C., Verified Buyer, Phoenix, USA
In addition to their functionality, aluminum buckles contribute to the overall aesthetics of arch support sandals. They're low profile, meaning they're not too shiny, yet they look fashionable.
We're conscious of protecting the environment. Therefore, we use straps made through 3D KNIT, an eco-friendly technology that weaves products directly from yarn instead of creating a fabric.
This process uses 100% recycled polyester and no seams are present in the final product. Nothing is cut, so there are no scraps, and therefore no waste.
So, when selecting arch support sandals, remember to confirm whether the straps can be adjusted, and also check the product specifications to see whether they're made of aluminum buckles.
Choose the best podiatrist recommended sandals by getting a pair from Tread Labs. The adjustable straps will give you a snug fit, reduce the risk of blisters, and contribute to the overall style of your sandal.
Bonus Tip: Measure your feet and compare them to the sandal's size chart before purchasing to ensure you get the right fit with adjustable straps.
Feature 3: Check Their Shock Absorption Capacity
A key feature to consider when selecting arch support sandals is how well they absorb impact, which you can tell from the midsole.
This portion is sandwiched between the outsole and the insole (footbed) of the sandal, and is responsible for neutralizing shock when your feet hit the ground as you move.
As the midsole absorbs the shock, your feet are protected from injuries such as shin splints, caused by the repetitive impact.
During selection, you can tell whether you're looking at shock absorbing sandals by confirming that the midsole is made of materials such as Polyurethane, Ethylene Vinyl Acetate (EVA), gel, or air cushioning. 
At Tread Labs, we use midsoles made from polyurethane.
Polyurethane is known for excellent cushioning, a property that aids in distributing shock evenly to the whole foot.
It's also a robust material that is lightweight, yet resistant to wear and tear, ensuring that the midsole retains its shape and support over time.
This weightlessness is beneficial for those who wear sandals for extended periods or engage in physical activities, as it reduces the strain on the feet and lowers the risk of foot pain.
Action: Take a few minutes to walk around in your sandals before purchasing them to ensure that they have adequate shock absorption.
Feature 4: The Outsole Should Be Slip-Resistant
A slip-resistant outsole is a crucial feature for arch support sandals. It helps you maintain proper footing on slippery surfaces.
These specialized soles have tread marks that increase the traction (grip) on the surface, preventing you from falling and injuring yourself.
Rubber is commonly used in slip-resistant outsoles as it has excellent grip and lasts long.
We use durable rubber to make our outer soles, and we also have them carved with high performing tread marks to provide maximum traction even on slippery ground.
All Tread Labs sandals can be resoled with original rubber outsoles when they wear out. We believe in lessening our impact on the environment by extending your sandals' life, and so we've partnered with Dave Page Cobbler for that cause.
They have over 100 years of experience in footwear repair and will use their newest techniques and materials to give your sandals new soles.
To ship to them for resoling, you'll need to fill in this Request Work Form, and you're guaranteed your sandals will be back with a sturdy, slip-resistant sole, just like the original one.
While shopping for arch support sandals, remember that a pair isn't complete without a slip-resistant sole. Therefore, check the sandals' specifications to ensure they're made of durable, anti-slip outsoles.
Expert Tip: Look for sandals with multi-directional treads on the outsole for even better slip resistance on different surfaces.
Make Your Feet Happy With the Right Arch Support Sandals
Do you believe in performance sandals? The performance of shoes isn't limited to sports activities only. What about those days you spend on your feet walking in the museum, doing some light hiking, or standing for long periods at work?
You need a sports shoe alternative that will support and comfort your feet throughout the day, and the best alternative is sandals with arch support. But do you know which features are important?
Look for sandals with a contoured footbed that conforms to your feet's natural curves, and ensure the straps are adjustable to accommodate your feet in case they swell.
The midsoles should absorb impact as you move, while the outsoles should be sturdy and non-slip to prevent you from falling—all of which are features that define our arch support sandals.
Tread Labs arch support sandals are like performance running shoes, but with the roof down. Meaning that they have features similar to those found in running shoes, but in an open and breathable sandal.
"It's basically like they took an orthotic insole and built a sandal around it. Just what I needed."
- C., Verified Buyer, Los Altos, USA
Buying the ideal pair of arch support sandals is vital for your foot health and comfort, so take your time to review the essential features outlined in this article before selecting.
We welcome you to browse our arch support sandals collection, where you'll find your next pair. You can find more sandals from our sale collection, which features discontinued colors and gently worn sandals that look so good you won't believe they've been worn before.