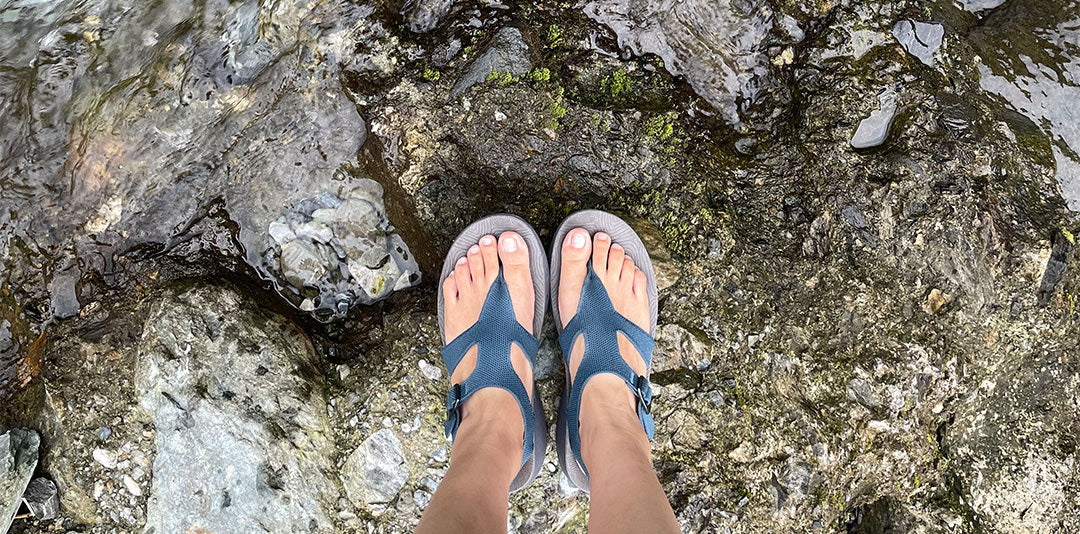 Can You Hike in Sandals? 3 Things to Look For in Rugged Sandals
Yes, you can comfortably hike in sandals. And we're not talking about Crocs or flip-flops, either; but quality rugged sandals with thick, sturdy soles that offer incredible arch support and added comfort. 
The Basics
Hiking in sandals provides more flexibility and comfort than boots or runners.
The best sandals for summer hiking prioritize comfort and support with lightweight designs, adjustable straps, and adequate arch support.
Investing in hiking sandals that can be resoled will not only save you money but also protect the environment.
Water-friendly and machine-washable sandals are easy to clean and will keep you dry and comfortable.
Hiking boots are becoming a less common sight on trails today as more hikers choose to embrace comfort and minimalism with hiking sandals.
In good hiking sandals, your feet will feel cool and unencumbered, but still be adequately supported for treading over challenging terrain.
At Tread Labs, we recommend investing in a pair or two of quality hiking sandals, well-suited for:
Extremely hot days when you need proper ventilation for your feet
Areas with hot and humid climates since the sandals are breathable and promote airflow
Areas where you'll need to cross water because many of our sandals are made with waterproof materials that dry quickly
Flat or moderate terrain with no rocks or huge stones that may injure your toes due to the sandals' open-feet design
However, with all the thousands of hiking sandals on the market today, choosing the right one for your hiking needs can be daunting.
To help you, we recommend looking out for the following features before settling on your best choice.
Table of Contents
1 - Comfort and Support Are Key
When choosing your hiking sandals, ensure they have the following features to give your feet the comfort and support they need for a successful and enjoyable hiking experience:
Lightweight
Sandals made with lightweight materials won't weigh you down.
Tread Labs' hiking sandals feature ultra-lightweight EVA polyurethane midsoles.
The weightlessness of the EVA midsole provides maximum comfort to your foot while the durable polyurethane adds the needed support to ensure the sandals last for a long time.
Adjustable Straps
Adjustable straps on a pair of hiking sandals are a lifesaver should you find yourself on rough terrain. The ability to adjust your straps gives you freedom to recalibrate them to achieve the best fit, thereby improving stability and possibly avoiding injury.
And in case it gets chillier, you can throw on a pair of woolen socks under your sandals and adjust the straps as needed.
All our sandals at Tread Labs have adjustable straps to allow for a snug fit for every foot shape and provide more stability and support during hikes.
"A very comfortable fit
The straps were well-positioned to cradle my foot and the footbed supported me in just the right places. Well done!"
- Leta Kalfas, Denver, United States
The Right Arch Support
Hiking is still a strenuous activity, so the hiking sandals you choose must provide adequate arch support.
Arch support in sandals helps distribute your weight evenly across your feet and reduces the stress on your muscles and joints.
Flat sandals will cause your feet to ache, so look for sandals with molded footbeds or built-in arch support that will provide the stability and support you need on the trail.
At Tread Labs, all our hiking sandals have perfectly proportioned arch supports that ensure all-day support by improving alignment and helping with any foot ailments.
Here's a table highlighting the different colors our hiking sandals are available in for both men and women:
2 - The Stronger the Sole, the Better the Traction
Your hiking sandals' outsoles play a significant role in providing your traction. A thick and sturdy sole will provide your feet with the firm grip it needs as you walk over trails and rough terrain.
Sandals that are designed with extremely flat and slick bottoms won't have a good grip, even on simple dirt trails.
You want to choose sandals with soles that have textured bottoms, which will easily grip a variety of surfaces.
Check for a decent amount of tread, too, similar to what you'd look for in car tires. The thicker the sole or the more tread, the greater the amount of traction and support you'll have.
Traction is crucial when hiking in wet and muddy environments. Sandals with good grip will prevent you from slipping and falling.
Tread Labs offers hiking sandals for flat feet with thick and durable rubber outsoles that are slip-resistant and can be resoled with original rubber outsoles in case your sole wears out for all-season protection.
Investing in resoleable shoes comes with other additional benefits:
You'll end up saving a nice chunk of money since resoling is cheaper than buying new sandals.
Resoling your sandals is good for the environment because you're not throwing away the entire pair every time the sole wears out.
You'll still be able to keep your favorite pair of hiking sandals since resoling will prolong their life while keeping them functional.
Tread Labs believes in building a sustainable environment by ensuring that our sandals are super versatile for multiple uses, and last for as long as possible.
To that end, we've partnered with Dave Page Cobbler Repair Services to resole your shoes and help you save your money and sandals in the long run.
To resole your Tread Labs sandals, simply visit Dave Page's shoe repair website and fill out their repair form. Then, follow the instructions given to send your sandals in for resoling, and then relax as you wait for your "new" sandals.
(For further questions about this program, please contact Dave Page Cobbler on davepagecobbler@gmail.com.)
Bonus: Browse our collection of innovative insoles for the shoes already in your closet
3 - Waterproof Hiking Sandals Provide More Flexibility
One of the greatest benefits of choosing hiking sandals over hiking boots is that you can hike near water or run through streams without taking off your shoes.
"Supportive but WIDE
The footbed feels amazing so far. It's the first ever water-ready sandal I've tried where I can feel the shoe under my entire arch."
- Sambagrrl, Weehawken, United States
Our waterproof sandals are made of materials with fast-draining and fast-drying properties, like rubber, so there'll be no need to take them off before entering water bodies.
The ability to dunk your feet into cold streams and experience nature at its finest is one of our favorite things about hiking in sandals.
All our sandals are water-friendly and machine-washable. The soles are made with fast-drying rubber that will dry quickly whenever they come into contact with water.
And since they're machine-friendly, you can toss them into the washer with your other dark loads to keep them looking clean.
Expert Tip: Even though the sun and outside air will dry your feet after a water crossing, always have a small towel handy to blot out excess water to speed up the drying process.
The Benefits of Hiking in Rugged Sandals
Below are some of the advantages of hiking in quality hiking sandals:
Better feet ventilation: Sandals allow your feet to experience the cool breeze and sun, keeping them cool and dry throughout your hike. This will prevent any chance of foot sweat or blisters, especially if you live in a hot environment area.

More hiking freedom: Sandals offer a feeling of freedom and a more natural hiking experience. They allow hikers to connect more intimately with their surroundings while still providing the necessary protection and support for their feet.

Greater flexibility and range of motion: Sandals enable hikers to use their toes and feet more effectively, allowing for more control and stability on rocky or uneven surfaces.

This is particularly important when traversing uneven terrain that requires greater flexibility and agility.

Take up less storage space: When traveling to your hiking destination, a pair of hiking sandals will take up less space in your luggage than hiking boots or trail runners.

Sandals are also incredibly easy to pack. They pack flat, so you can easily slide them into empty spaces in your traveling bag.

Better for foot health: With sandals, your feet will stay dry and cool, eliminating the chances of foot complications that may arise when your feet stay in warm and humid conditions or cold and wet areas for prolonged periods.

Such foot problems include blisters, trench foot, and athlete's foot.
Watch this product review from an Orthopaedic expert:
Here's a table comparing hiking sandals and regular sandals:
| | | |
| --- | --- | --- |
| Category | Hiking Sandals | Regular Sandals |
| Arch Support | Molded or contoured footbed | Minimal or no arch support |
| Outsole | Rugged outsole | Flat or non-rugged outsole |
| Durability | Abrasion-resistant materials, resoleable | Varies on material and construction |
| Toe Protection | Has a bumper for toe protection | No toe protection |
Get Quality Rugged Sandals for Your Next Hike
Hitting the trails with quality hiking footwear is one of the best ways to thank your feet for all the challenges they'll endure to get you to the summit.
Rugged hiking sandals have all it takes to witness a victorious hike. Their comfort, flexibility, versatility, and light weight make them your best hiking foot companion.
"Favorite sandals
These are by far my favorite sandals for everyday and hiking." 
- Hiker, Takoma Park, United States
Tread Labs offers the best quality hiking sandals with unique features that you'll hardly find in any other sandal on the market today.
These features include:
Highly durable and resoleable: Our sandals have thick and sturdy rubber soles that are certain to last, and can also be resoled for a new look in case they wear out.
Zero waste straps: We make the straps of our sandals from 100% recycled polyester yarns and use recycled materials in our outsoles. There is no waste or scraps during production since nothing is cut.
Soft and cool: Our sandals have buttery-soft microfiber suede footbeds that will keep your feet soft and dry even after hours of trekking.
Machine-washable: Our sandals are made with water-friendly materials that are machine-washable and fast-drying.
Get yourself a pair of hiking sandals from us today for a wholesome hiking experience.
Make sure you browse our Sale Sandals page to get the best deals on discontinued colors and previously worn kicks that are still in excellent condition.
For any questions, drop us a line at hello@treadlabs.com. We'll be more than happy to help.
You might also like...