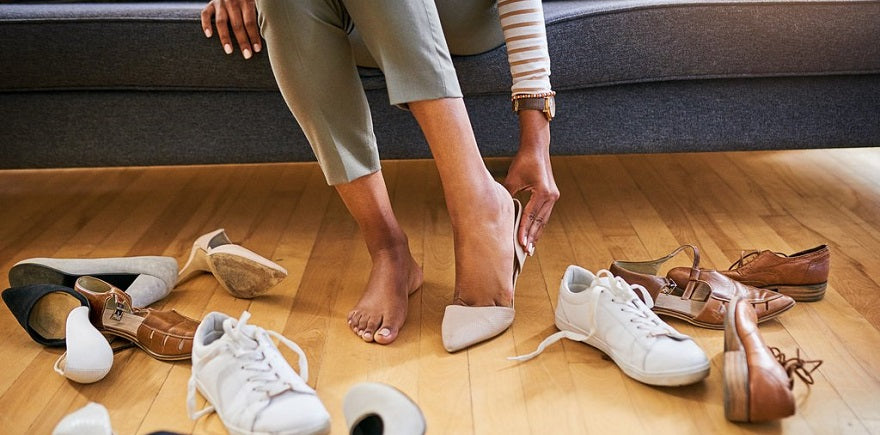 Tips for Finding the Best Work Shoes
No matter if you're required to wear specific shoes for work or it's your choice what you get to walk around in, you want the shoes you wear all day to be comfortable. Whether you're sporting a pair of trendy shoes like Rothy's or AllBirds, or your tried and true steel-toed boots, the perfect pair of work shoes can make all the difference in your day.
The Basics ---
Finding the best work shoes starts with figuring what works best for your line of work. Whether you wear steel-toed boots or ballet flats to work, you want your feet to be comfortable all day long.
Regardless of the type of shoe you have to wear, you'll want to factor in certain considerations like your arch height, whether you have bunions or any foot conditions you have when making your selection. 
Because footwear is constructed with minimal arch support, you'll need to add a pair of insoles to you shoes to up your comfort level. We recommend Tread Labs Ramble Insoles for a more comfortable shoe. If you're suffering from 

plantar fasciitis or other foot pain, check out 

Pace Insoles

. Or, if you're an athlete looking for enhanced performance and superior energy return, shop our 

Dash Insoles

.
What You Need To Know ---
Step one of finding the best work shoes figuring out what works best for your specific line of work and job responsibilities. A pair of construction boots probably won't work in an office setting. And those boat shoes or ballet flats you wear in the office definitely won't work near bulldozers and jackhammers. But finding the right support and comfortable footwear for your job doesn't have to be challenging if you follow these tips.
Being on your feet all day can take its toll on your body if you're not wearing the right footwear. To reduce foot, knee, and back pain, you'll need to make sure your work boots are sturdy and supportive. When you're in the market for a new pair of work boots, you'll need to consider ones with features that are often required for the job site:  
Boot height, weight, and construction

Waterproof or resistant materials

Toe protection, such as steel-toed boots

Insulation
Learn more about how to find the right work boots here.
For professional women, finding a pair of high heels that is both stylish and comfortable can be tricky. For women who often wear high heels, it will come as no surprise to learn they are one of the leading causes of foot pain for women. From sky-high heels to ballet flats, figuring out which type of footwear works best is especially important when it comes to getting all-day comfort, pain free.
To reduce and prevent foot pain from wearing high heels, use these tips:
CONSIDER 2" heels or lower

CONSIDER heels with a wide toe box

AVOID high, pointy-toed heels

AVOID peep-toe shoes

AVOID high wedges or platforms
Learn more tips to finding the best high heels here.
Driving a delivery truck all day, every day includes several actions that could lead to foot injury or pain—driving for long periods of time, walking on slippery surfaces, and carrying heavy objects. When your job depends on your ability to be on your feet, moving around, your footwear needs to provide the best support available.
When shopping for footwear that can prevent foot pain, consider these guidelines:
Outsoles

- The outsoles of the shoe should balance cushioning and support to ensure shock absorption while being slip resistant. Look for a firm crepe or rubber outsole.

Quality

- In the end, a cheap pair of work shoes or boots will cost you even more if you're replacing them frequently. Invest in footwear that is durable and reliable.

Breathability

- Spending a day of work with sweaty feet is no fun. Even worse, wet feet can cause issues like blisters or athlete's foot. While helpful in certain circumstances, Gore-tex and waterproof membranes are the enemy of breathability, so you'll want to avoid them if you're a delivery driver.
Find out other ways to ensure foot comfort on your delivery route here.
There are three different types of firefighter boots: station boots, bunker or turn-out boots, and wildland firefighting boots. Because each of these three types of firefighter boots serve different purposes, there are different factors to consider when buying them.
For station boots, there are a wide variety of quality, black service boot options that can work. Ideally, your station boots are comfortable and durable with an athletic fit. They do not necessarily need a safety or steel toe.
For bunker or turn-out boots, you can opt for the traditional rubber kind or the more popular leather ones. Although the leather boot options are more expensive, they offer many benefits including a lightweight feel and long-lasting comfort. Bunker boots are required to have toe protection and puncture-resistant insole plates. For the safety toe requirement, steel or composite are both acceptable options.
Wildland firefighting boots need to provide more traction and durability than the other two types. These boots must versatile and comfortable enough to wear in a variety of different terrains for long periods of time. Choose a pair of heavy-duty, welted leather boots that are built to last.
Here are our suggestions of the best station, bunker, and wildland firefighting boots.
When you're working a 12-hour shift, having comfortable footwear is essential. But how do you decide which pair to choose? Do you go for the Dansko clogs nurses seem to love or those tried and true, cushy Nike running shoes?
Look for shoes that fit well, are lightweight, and offer shock absorption. While sneakers are a common choice, they can sometimes offer too much cushioning and not enough support in the soles.
Clogs, on the other hand, are a great option. They offer support and comfort without adding tension or pressure to your feet.
Learn more about how to choose the best work shoes for nurses here.
Other Work Shoe Considerations
When shopping for footwear to take you through your workday, in addition to occupational considerations, you'll want to factor in arch height and common foot problems:
Flat feet:

If you have flat feet, make sure your work shoes offer a supportive arch. You may want to consider stability shoes as an option.

High arches:

If you have high arches, finding shoes that offer extra shock absorption can be helpful.

Plantar Fasciitis:

If you suffer from plantar fasciitis, choose a work shoe that offers a supportive arch, adequate shock absorption, and flexibility.

Bunions:

If you have bunions, choose a work shoe that provides a wide toe box and is made of flexible materials, such as soft leather or fabrics.
Once you've determined the best footwear for your job, you'll definitely want to improve the support and comfort they offer with a pair of Tread Labs orthotic insoles. Adding an orthotic insert to your shoes can make all the difference to your day. 
Questions? Drop us a line at hello@treadlabs.com. We're here to help.