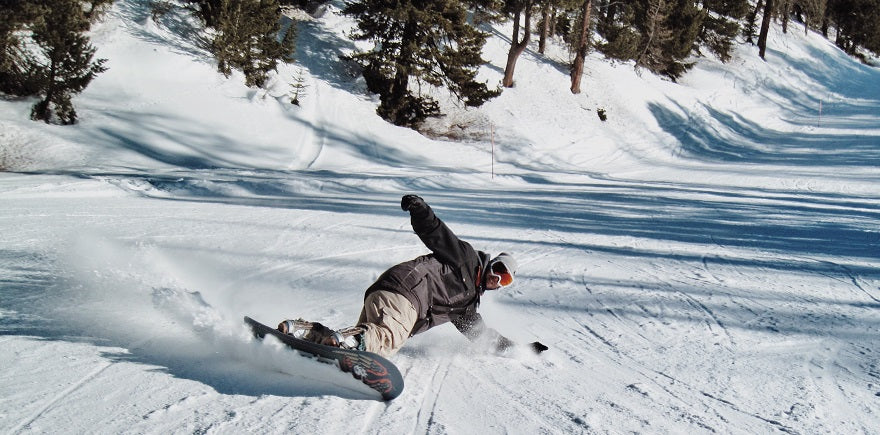 Can Insoles Make You A Better Snowboarder?
While most riders will say any day on the mountain is a great day, every snowboarder wants to get better at carving their way down the slopes. Besides getting in lots of runs, having the right gear can help in a big way - not only to improve the fit of your snowboard boots, but also to improve your snowboarding ability.
The Basics ---
Your snowboarding boots come with generic factory inserts that don't provide much in the way of support. Adding a pair of over-the-counter insoles can make your boots more comfortable and improve your performance on the slopes.
Proper arch support helps you apply maximum pressure on your edges and avoid pronation as you shift your weight over your board. They'll also prevent foot fatigue and give you a more precise boot fit.
The best insoles for snowboard boots will give you arch support that mimics the contours of your feet, a deep heel cup to hold your heel in place, and a comfortable fit in your boots.
We recommend Tread Labs Dash Performance Insoles for snowboarding boots. Their carbon fiber arch supports are designed to give snowboarders the firm arch support needed to control turns and ride board edges.
What You Need To Know ---
For maximum comfort, safety, and performance on the slopes, a pair of quality snowboard boot insoles can make a major difference. Adding a pair into your boots will improve support, decrease pain or discomfort, and let you stomp the landings on those kickers.
Are The Inserts Already In My Snowboard Boots Enough?
In one word: No. Generic snowboard boot inserts from the factory are made with low arch contours. While they won't cause too much discomfort for most people, they don't provide much in the way of support, either. Snowboard boot makers expect serious snowboarders to retrofit their boots with insoles to get the most comfortable, performance-enhancing support.
How Can Snowboard Boot Insoles Help My Ride?
Snowboarding is all about having the right biomechanics. You're constantly shifting your weight over your board, which means the arches of your feet need to be supported so that you can apply maximum pressure on your edges and avoid overpronation (turning inward).
When your knees are bent over the board as you turn, your arches will flatten out without adequate support. This weakens your feet and causes them to overpronate. The right snowboard boot insoles give you the ultimate support and strength as you shift your weight over your board.
Aside from enhancing your performance on the slopes, there are many reasons why you need good-fitting, supportive inserts in your snowboard boots. Here are six of them:
Allow for the even distribution of pressure across the foot
Provide support for the arch, instep, heel, and ankles
Enhance control by stabilizing the foot in a neutral (non-pronated, non-supinated) position inside the boot
Reduce pressure on edges and friction during lateral movement by supporting the heel
Prevent fatigue of the foot by alleviating arch-strain and cushioning the heel
Constrain the width and length of your foot inside your boot, allowing for a precise fit and a smaller boot shell size
What's the Difference between Inserts, Insoles, and Orthotics?
It's easy to get confused by all of the terminology - inserts, insoles, orthotics, arch supports. Are they all the same thing?
Inserts, insoles and arch supports generally refer to the same product: an insert that is made to provide additional cushioning and support for your feet. "Orthotics" is a term that was once used primarily to describe custom  supportive insoles that are prescribed by a physician, but the term is becoming more widespread to describe over-the-counter products as well.
The key difference in determining what you need to buy is the distinction of a custom fit.
If you have an extreme foot irregularity that requires correction, your doctor may prescribe custom-fitted orthotics to provide support for and help correct your foot's abnormality.
Know Your Options
Once you find out how expensive custom orthotic insoles are, you're probably asking yourself, "are they worth it?" especially when you consider the alternatives.
Custom snowboard boot orthotics can cost upwards of $400 and require multiple modifications to ensure a proper fit. It's true that they can provide a great fit and exceptional support, but that comes with a hefty price tag.
Cushioned insoles like those found in drugstores and sporting goods stores may be very affordable, but they do not offer much in the way of support, if any at all. They're often made with less durable materials that wear out quickly, and because they are one-size-fits-all, they don't provide optimal comfort or support for your needs.
Firm, supportive insoles that offer a semi-custom fit at a fraction of the price of custom are a great option for your snowboard boots. Tread Labs insoles come in four arch heights so you can get a perfect fit that mimics the contours of your feet, giving you all the support you need to sit on your edges.
What Do I Look For In Snowboard Boot Insoles?
You can spend a little or a lot on snowboard insoles. When considering value, remember that the better fit, support, and comfort your inserts provide, the more control you'll have on your board and the better experience overall.
Support. Whether you opt for after-market, semi-custom, or custom inserts, you want to get the proper support for your feet. A firm footbed will ensure the right amount of pressure-resistance on your feet and will last longer than softer, foam, or heat-molded footbeds.
Heel Cup. Look for a deep heel cup that holds your heel firmly in place. Shallow heel cups can allow your heel to slip, creating misalignment and discomfort in the toe.
Fit. Your snowboard boots have a narrow heel and short toe box to help prevent movement of the foot while riding. Consider this when purchasing inserts. You may need to trim the insole to fit properly by removing the factory boot insert and using it as a guide to trace your trim lines.
The secret to a great day of snowboarding is being comfortable in your boots. When you're riding for hours, you want to make sure your feet have the support they need to you can preform better and avoid foot fatigue. Add a pair of Tread Labs Dash Performance Insoles to your snowboard boots and see the difference they make in your ride.
Questions? Drop us a line at hello@treadlabs.com. We're here to help.