Retailer Product Guide
Employee Purchase Program
Employee Purchase Program
Tread Labs products are available to employees of all our retailers at a 55% discount including free shipping and free exchanges.
Apply and Order Now
Welcome to Tread Labs
Hi there,
I've been obsessed with functional footwear since the earth cooled. It started with a custom shoe shop in Arcata, CA, 'Shoestring Cobblers'. After moving to the Rockies and a stint as a river guide, I started Chaco sandals in beautiful Paonia, CO. We made exceptional footwear there for 20 years.

In 2015, I started Tread Labs. We raised the bar for over-the-counter orthotic insoles with removable top covers, carbon fiber arch supports and a million mile guarantee. It felt great to be making all kinds of footwear exceptional.

In spring of 2022, Tread Labs introduced a new collection of sandals, distilling everything I know about support, biomechanics and design into what may be the most comfortable sandal on the planet.
We'd love to be your support group, providing insoles and sandals to for all your human powered activities. If there is any way we can be of any assistance, please reach out.

Best regards,
Mark Paigen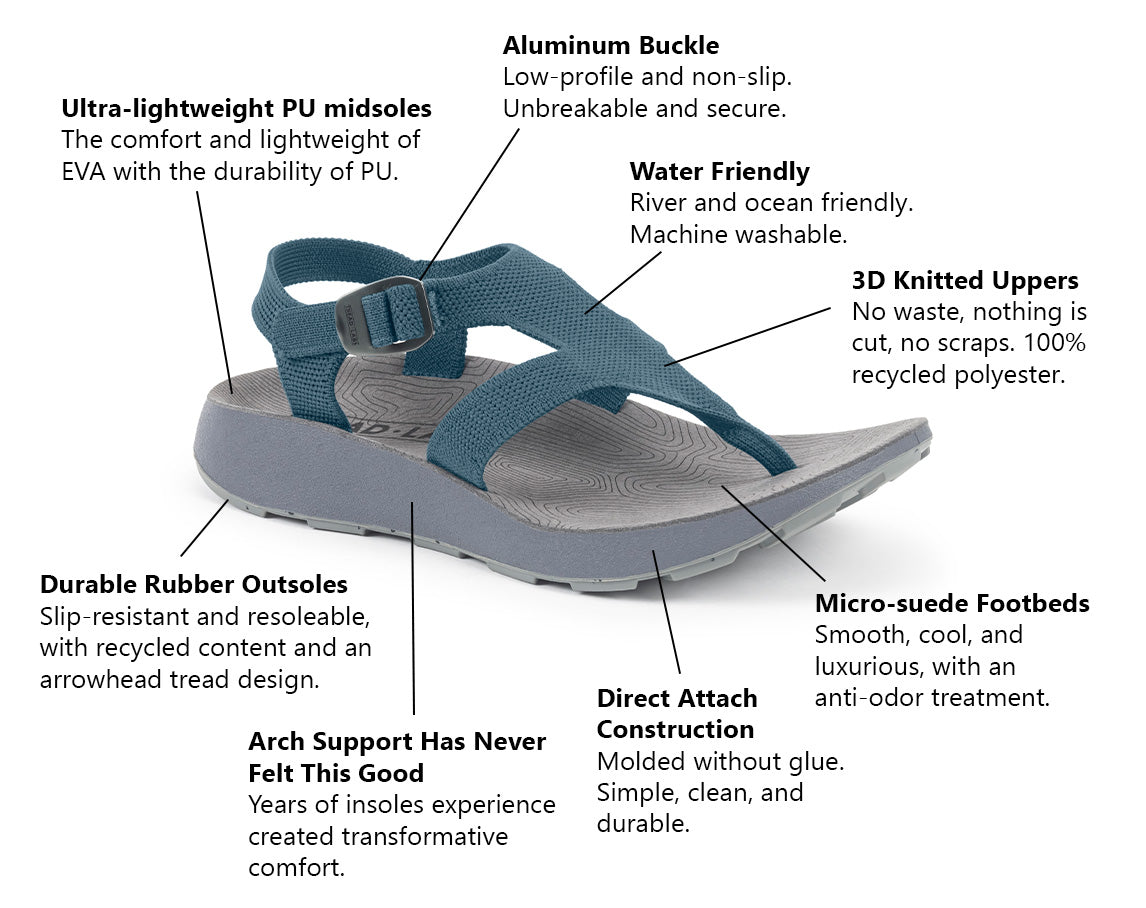 Sandals Features & Benefits
Our sandals are developed for underfoot support. These are the key selling points.
Sandals Spring 2023 Collection
The full Treads Labs Sandal Collection for Spring 2023 has 2 styles for both Women's and Men's. The Women's Albion and Covelo have 5 colors each. The Men's Albion has 3 colors and the Men's Covelo 4 colors.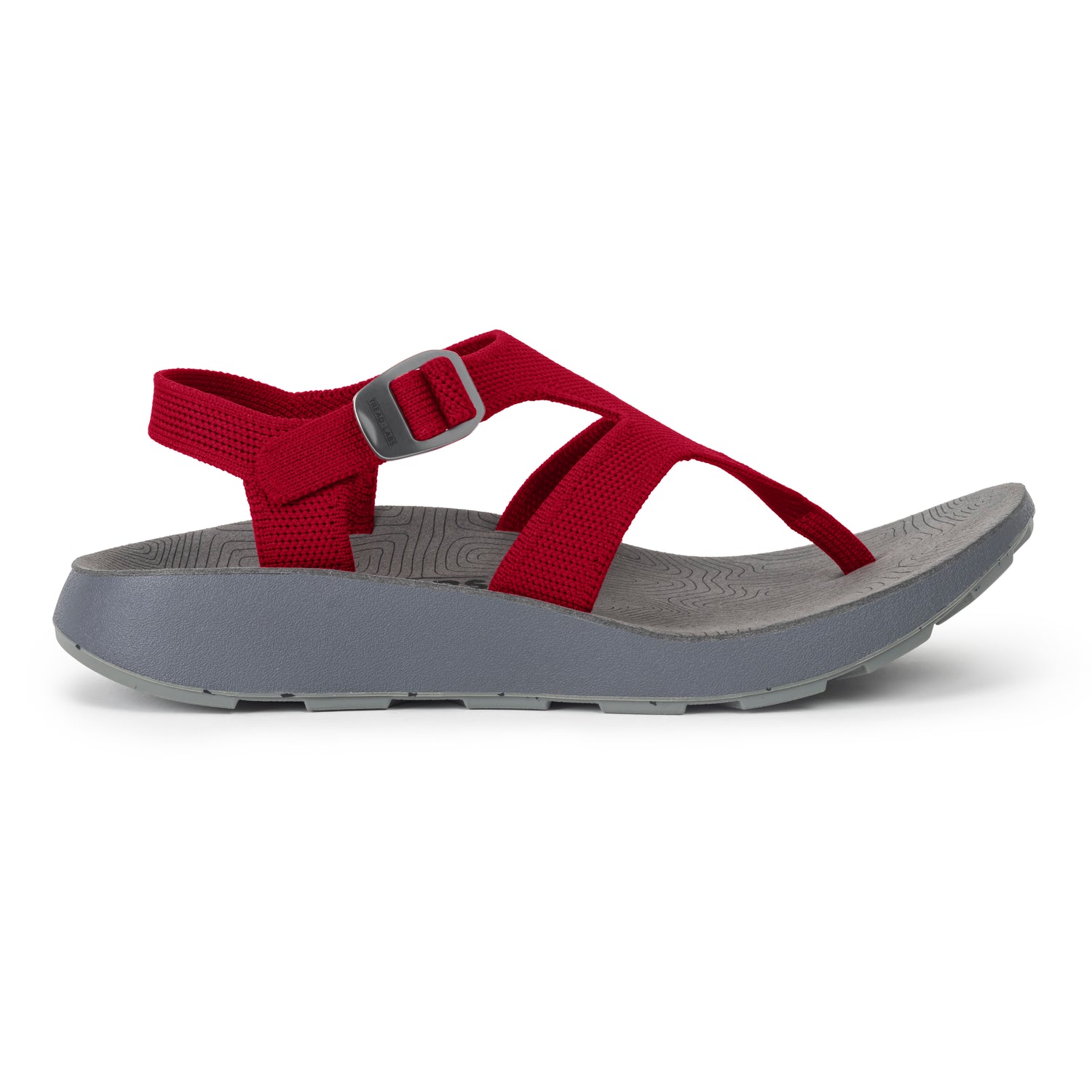 Women's Albion
Lightweight and minimal, with the comfort that only comes with strong support. Durable enough for extended trips, they clean up nicely for dinner. Soft toe posts and sculpted uppers provide ultimate comfort. Water-friendly and machine-washable, support has never looked this good. 15mm straps and buckles.
Women's Whole Sizes 6-11 (half sizes should size up)
Retail: $120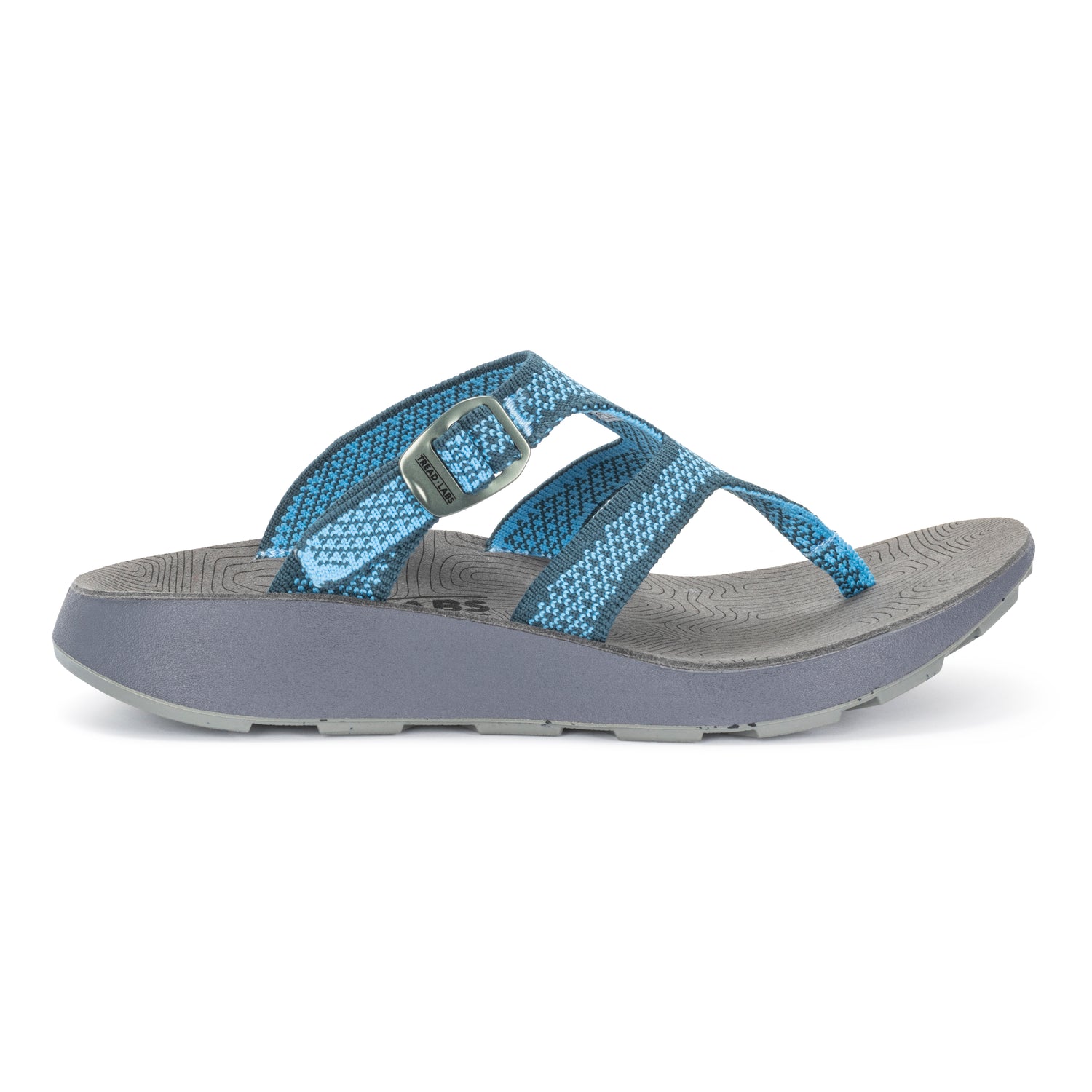 Women's Covelo
Slip-on, slip-off ease with the arch support pf a custom orthotic. Lightweight and long-wearing. Our version of a recovery sandal doesn't need to vanish when it's time to head into town. 15mm straps and buckles.
Women's Whole Sizes 6-11 (half sizes should size up)
Retail: $110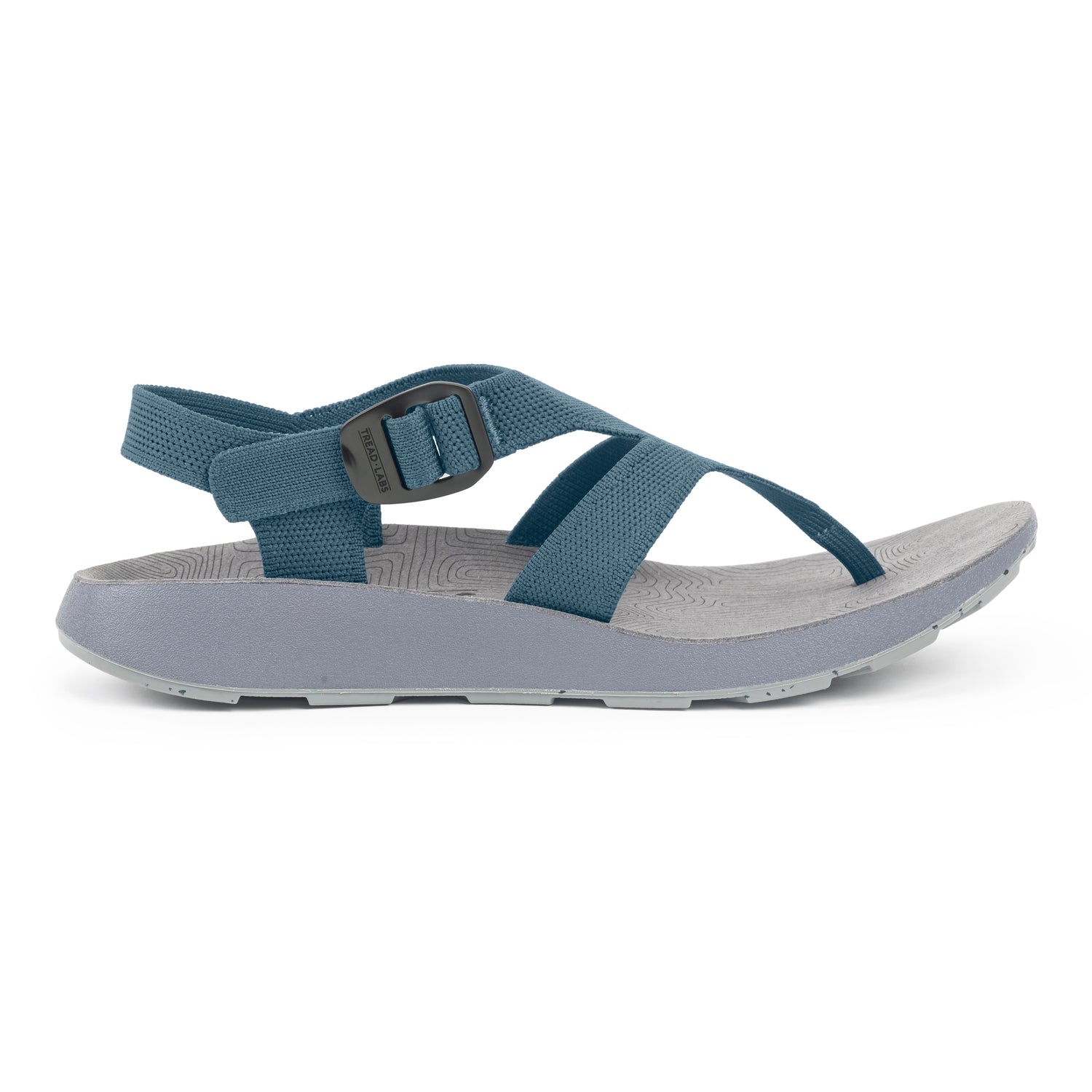 Men's Albion
Simple, unbelievably supportive and amazingly secure. These sport sandals are like a running shoes with the roof down. Water-friendly and machine-washable like all our sandals. Don't be caught flat-footed. 20mm straps and buckles.
Men's Whole Sizes 8-13 (half sizes should size up)
Retail: $120
Black

Leaf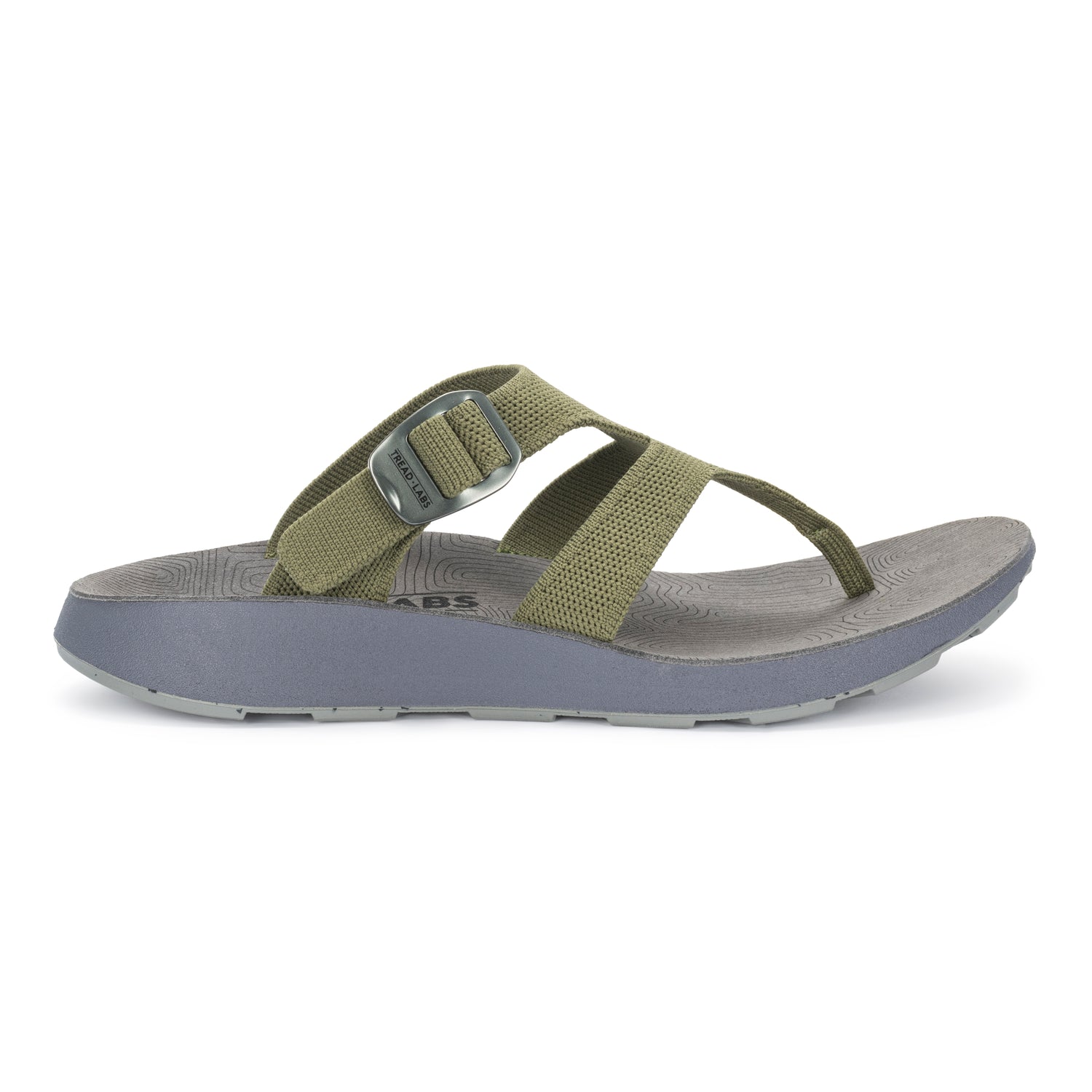 Men's Covelo
As convenient as a flip flop, as secure as a sandal. These easy kicks will live by your door and their support will never let you down. Low-profile aluminium buckle for adjustment. Direct attach construction for strength. 20mm straps and buckles.
Men's Whole Sizes 8-13 (half sizes should size up)
Retail: $110
Should I size up or down if I'm a half size?

If you wear a half size or are in between sizes, please size up to the next larger size.
Will Tread Labs sandals fit wide feet?

Tread Labs sandals have an accommodating fit. We encourage customers with wide feet to give them a try.
What makes Tread Labs sandals different than other outdoor sandals?

They have incredible arch support for all day comfort.
They feature a luxurious microfiber footbed that keeps feet feeling cool and dry.
They offer a unique combination of light weight and durability.

Can I get my sandals wet?

Absolutely! All Tread Labs sandals are made with water-friendly materials, and dry quickly.
How do I clean my sandals?

The easiest way to clean your Tread Labs sandals is to put them in the washing machine with your dark clothes. Do not put them in the dryer.
I am an international customer and do not know my US size. What now?
What are Tread Labs sandals best used for?

Tread Labs sandals are super comfortable and lightweight. They are ideal for around town, traveling, and light hiking.
Can I run or hike in my sandals safely?

Tread Labs sandals are not designed specifically for running and hiking. Experiment with your new sandals to see what they can do.
I have some skin allergies. What materials make up the sandals?

Your foot will rest on a microfiber footbed that is made of polyester with an anti-microbial treatment.
The straps are made from 100% recycled polyester.
I suffer from hammertoes, plantar fasciitis, bunions, etc. Will these sandals work for me?

Hammertoes and bunions are easily accommodated with Tread Labs sandals. People with plantar fasciitis may find Tread Labs sandals especially comfortable because of the high level of arch support in the contoured footbed.
Should I choose Albion (w/ strap) or Covelo (no strap)?

Albion is the more secure of the 2 styles because of the full circle ankle strap.
Covelo is better for kick-on, kick-off convenience.
Both offer the same, amazing level of arch support.
What is the weight of the sandals so I know they're actually lightweight?

Women's size 8 Albion single sandal weighs 200 gms./7 oz.
Men's size 10 Albion single sandal weighs 250 gms./8.8 oz.
How do I prevent my sandals from bad odor?

Easy, just throw them in the wash with your dark clothes and air dry them from time to time to keep them fresh.
Should I break my sandals in before I plan to wear them for a period of time? If so, how should I do this?

The sandal straps will feel snug initially and will loosen up about 10%. The straps are soft and accommodating from the start. If you are new to wearing sandals that have a strap between your toes, starting with a few hours a day will help your feet get used to the new feeling.
Are the soles marking?

No, they are non-marking.
Are the sandals resoleable?

Yes, they are resoleable.
Which gender to you sell more sandals to? Men's or Women's?

60% of our sales are Women's and 40% are Men's.
Which retail stores are Tread Labs sandals available at?

If you want to find the stores where our product is available please use our online Dealer Locator.
Our Insoles
Tread Labs insoles come in 4 arch heights. Your pants don't come in one-size-fits-all, and neither should your insoles.

Firm, Extra Firm, and Ultra Firm, we make insoles for all walks of life. Get the support that works for your body.

All our insoles feature a 2-part system. A molded arch support and a replaceable top cover.

Tread Labs molded arch supports are guaranteed for 1 million miles. Or forever. Whichever comes last.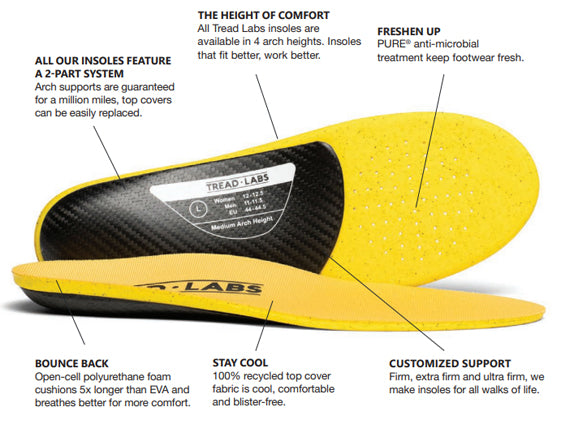 Insoles Features & Benefits
Customizable medical-grade support without the sticker shock of custom orthotics.
Insoles Collection
Dash Insoles

With arch supports crafted from 100% carbon fiber, Dash Insoles are uber-light, mega-strong, and nearly rigid. Best for people who need massive support, severe overpronators, and people with very flat, flexible feet. Also great for skiers and snowboarders. 5mm thick foam top covers.

Unisex Sizing: Men's Whole Sizes 4-13 | Women's 5-14 (Half sizes size down)
Retail: $115.00

Dash Thin Insoles

Massive support for heavy hitters and competitive athletes. This thin version of our Dash Insole is designed for shoes that have a thin, full-length removable insole. Perfect for cyclists, all cleated sport shoes, and anyone else who needs uber-support in an ultra low-profile package.

Unisex Sizing: Men's Whole Sizes 4-13 | Women's 5-14 (Half sizes size down)
Retail: $115.00

Pace Insoles

Our best-selling insoles are great for the pain of plantar fasciitis and other foot ailments. Strong polymer arch supports pair with 5mm thick open cell polyurethane foam top covers.

Unisex Sizing: Men's Whole Sizes 4-13 | Women's 5-14 (Half sizes size down)
Retail: $75.00

Pace Wide Insoles

If your feet look more like Fred Flintstone than Cinderella, Pace Wide is for you. A broader, shallower heel cup and wider foam top cover worls best in EE and wider footwear. Overall width is 10mm wider than standard-width Pace Insoles. 5mm thick top covers.

Unisex Sizing: Men's Whole Sizes 8-14 | Women's 9-15 (Half sizes size down)
Retail: $75.00

Ramble Insoles

Our softest, entry-level insoles offer a more dynamic, accomodating ride. More supportive than an inexpensive, all-foam insoles, Ramble is great for insole newbies and those looking for more comfort at the end of a long day.

Unisex Sizing: Men's Whole Sizes 4-13 | Women's 5-14 (Half sizes size down)
Retail: $75.00
How do I determine my arch height?
What do you recommend for wide feet?

The Pace Wide Insole is perfect if you have wide feet.
Will my orthotics fit all my shoes?

Tread Labs unique 2-part insole system features a molded arch support and interchangeable top cover. Insoles are available with 1 of 3 different top covers (regular, short or thin) to accommodate shoes with removable inserts, shoes without removable inserts, and low-volume footwear with thin, removable inserts. Top covers can be purchased separately to make 1 pair of arch supports fit perfectly in different types of shoes. Note that some top covers may only be available directly from Tread Labs.
Should I remove the factory insole?

Yes. Tread Labs insoles should replace the factory insert in your footwear. If your shoes do not have removable inserts, you'll want Tread Labs' short insoles.
What is the largest size you offer?

Tread Labs' Pace Wide Insoles go up to a men's 14-14.5. A men's 13-13.5 is the largest size we currently offer in our standard insoles.
How should orthotics feel?

Supportive - Your foot should feel constant contact through all parts of your arch. There should be no uncomfortable pressure points.


Comfortable - Initially, a supportive orthotic may feel aggressive. After a few days, it should feel like it has always been there; not having it in will feel hollow and unsupportive.


Resilient - Your arch is designed like a spring to absorb the impact of walking. Orthotics should bolster your foot's natural shock-absorbing structure.
What are the thicknesses of the different interchangeable top covers?

Tread Labs' regular, full length, top covers are 5mm thick. Thin and short top covers are 3mm thick. Note that some top covers may only be available directly from Tread Labs.
Do I need to trim the insoles to fit in my shoes?

In some cases yes. This is because shoe sizes vary by manufacturer.
If trimming is necessary, remove the stock insole and use it as a cutting guide for your new insoles. Be conservative.
Are Tread Labs insoles guaranteed?

Yup. Tread Labs molded arch supports are covered by our Million Mile Guarantee. If they ever crack or lose shape, Tread Labs will send you a new pair. No questions asked.
Does this guarantee extend to Tread Labs insoles purchased at retail locations?

Yes. Please have the customer contact us directly at hello@treadlabs.com or 781-435-0662.
Does Tread Labs make full custom orthotics?

We don't. There are a small number of people that need custom orthotic insoles, but most people find Tread Labs insoles perfect for their needs.
What is the fabric on top of the orthotic?

We use a 100% recycled polyester fabric specifically designed for footbeds. It has high abrasion resistance and low friction, to eliminate hot spots and blisters. In addition, it is infused with a permanent anti-microbial treatment for stink-free shoes.
Do I need to heat mold my Tread Labs insoles?

Tread Labs insoles are available in multiple arch heights to provide you with a customized fit. Heating our insoles will damage their supportive structure. In addition, without a trained Pedorthist to help with the molding, foot problems can be worsened with DIY molded orthotics.
How long should insoles last?

The molded arch supports are guaranteed. Forever. The interchangeable top covers should last a year or so, depending on usage. They can easily be replaced without breaking the bank.
Can I wash my Tread Labs Interchangeable Top Covers?

If you remove your Interchangeable Top Covers from the molded arch supports, you can hand wash and air dry them. However, if they are in really rough shape, you can always buy replacements.
My insoles squeak. How do I make it stop?

If you encounter this problem, placing a dryer sheet beneath the molded arch support will completely eliminate the sound, and keep your shoes smelling fresh.
Which retail stores are Tread Labs insoles available at?

If you want to find store locations where our product is available please use our online Dealer Locator.