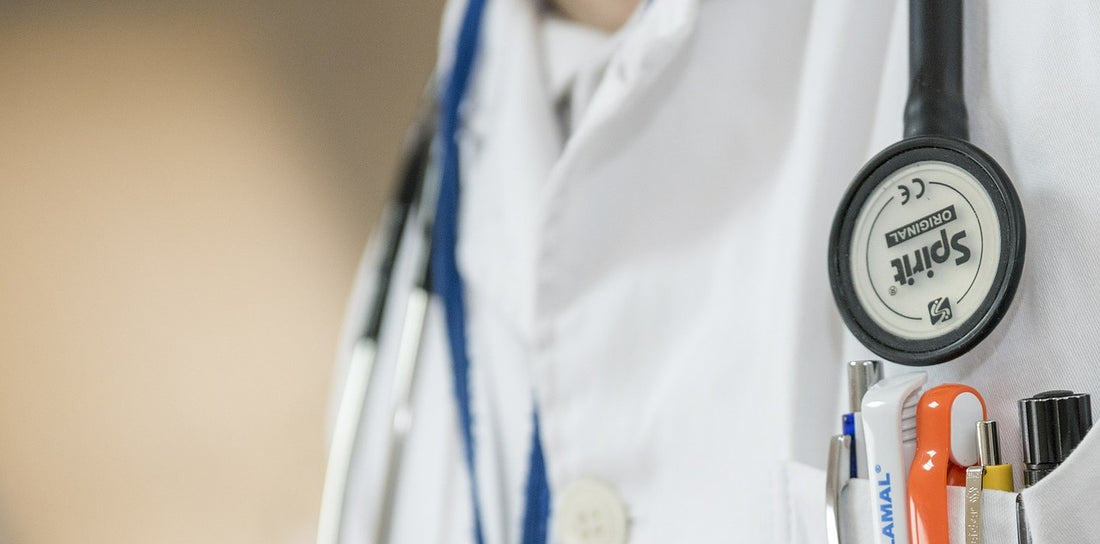 Should I See a Podiatrist? Which Doctor To See For Foot Pain.
If you're fed up with your foot pain and you know it's time to see a medical professional, figuring out which one is the right one to see can make your head spin. Are there benefits to seeing a podiatrist vs a chiropractor? Or a podiatrist vs an orthopedist? Luckily, selected a foot care provider doesn't have to be confusing.
The Basics ---
You have a lot of different options when selecting a doctor to treat your foot pain. There's the podiatrist, orthopedist, physical therapist, or chiropractor to name a few.
To figure out the right one to see, you need to understand the differences between providers. Podiatrists are trained to address all issues of the foot and ankle. Orthopedists tread bone abnormalities and musculoskeletal issues throughout the body. A chiropractor focuses on the diagnosis and treatment of joint issues.
It can help to ask around and get recommendations so that you can chose carefully to get your needs met.
What You Need To Know ---
There are several types of specialists, each with their own particular perspective on foot care. These include podiatrists, orthopedists, pedorthists, physical therapists and chiropractors. This guide will help you understand the differences between them and help you narrow the search on who to see for foot pain.
Foot Pain Doctors And Foot Care Specialists Defined
When it's time to see a medical provider for your foot pain, you want to go to the right one. Knowing whether to choose a podiatrist vs an orthopedist or a podiatrist vs a chiropractor comes down to understanding what each of them does and hwo they treat their patients:
Podiatrist. A Certified Doctor of Podiatric Medicine (DPM), or podiatrist, is not an MD but has been trained to address all issues of the foot and ankle. They can provide surgical and medicinal treatments and may provide recommendations for other foot care providers as well.
Orthopedist. Also known as an orthopedic surgeon, an orthopedist is a physician who treats bone abnormalities through surgery as well as casting and bracing. They focus on musculoskeletal issues throughout the body, which can include but is not limited to the feet.
Pedorthist. A pedorthist is a foot care specialist that focuses specifically on addressing foot conditions through footwear modifications and supportive devices like orthotics and insoles.
Physical Therapist. A physical therapist (PT) is a licensed care provider who focuses on correcting issues through rehabilitative exercises and treatments.
Chiropractor. A chiropractor focuses on the diagnosis and treatment of joint issues. Treatment provided is primarily through the manual adjustment or manipulation of joints and the spine.
There is a range of quality care within any profession. Choose carefully and ask around for personal recommendations. For insole and orthotic issues, some of the best foot care practitioners may not be doctors. Let's take a closer look at each of these foot care providers:
What Does A Podiatrist Do?
A podiatrist attends 4 years of podiatry school completes a three-year, mandatory, hospital-based residency. Podiatrists are trained in medicine and surgery but specialize in the feet from the beginning of their education. They treat disorders of the foot and ankle disorders, and irregularities like over-pronation, extremely high or low arches, fallen arches (flat feet), and other structural or balance-related issues that cause foot pain.
Podiatrists also diagnose and treat skin and nail disorders, heel pain, metatarsal discomfort, bunions, and foot symptoms associated with gout, diabetes and other chronic conditions. They also treat traumatic injuries including sprains and fractures.
A Doctor of Podiatric Medicine (DPM) can perform surgery on the feet and ankles.  While many podiatrists prescribe custom orthotics, few manufacture them themselves. Usually they cast or scan your feet and have the orthotics made by an outside lab.
What Does An Orthopedist Do?
Orthopedic surgeons attend medical school for 4 years before practicing in an orthopedic surgical residency program that may last 5 or 6 years, which is followed by another year or two in the sub-specialty of their choice – in this case, surgery of the foot and ankle. As an M.D. the orthopedist has a much broader education and more comprehensive approach to whole body health.
If you have a congenital or functional problem involving your hips, knees or lower back, an orthopedic surgeon will be your go-to professional. They are better equipped to handle more complex issues related to foot pain caused by an injury to the bones, tendons, or muscles in your foot or bone abnormalities from other causes.
As a physician who specializes in the treatment of bones, your orthopedist can diagnose and treat foot bone abnormalities and injuries, which may require resetting, casting, bracing, or surgery.
In addition to realigning and repairing your bones, your orthopedist may assist you in the rehabilitation of your foot, with physical or medicinal therapies.

Podiatrist Vs Orthopedist
As the two most common foot care providers, podiatrists and orthopedists are often confused with one another. This is understandable, as many of the treatment options they provide overlap. The key difference of a podiatrist vs an orthopedist is that orthopedists are M.D.s with comprehensive medical training, while podiatrists are trained only on foot and ankle related problems.
Ultimately, deciding if you should see a podiatrist or orthopedist for foot pain is primarily a matter of opinion. Both foot care providers offer similar treatments options and have access to similar equipment.
If you have a provider that you trust, opt for them. If you're unsure, a general rule of thumb for seeing a podiatrist vs orthopedist is to visit a podiatrist for more specific treatments of the foot and ankle. A foot and ankle focused orthopedist will be more suited for full spectrum issues that involve the hips, knees and shoulders, and feet.
What Does A Pedorthist Do?
Many painful foot conditions require specialized footwear to address an irregular gait caused by a leg or foot abnormality. A certified pedorthist (C.Ped) is trained to treat foot and leg problems by prescribing and or fabricating orthotic inserts, modified shoes, and other pedorthic devices.
Your pedorthist will work with your physician to select or create, fit, and manage the appropriate pedorthic equipment to provide your foot or leg with the support needed as a non-surgical intervention to help mitigate your foot pain.
While a pedorthist has less formal training than a podiatrist or orthopedic surgeon, their daily work of correcting gait and alignment problems gives many pedorthists a hands-on approach that more sophisticated practitioners lack.
Many pedorthists fabricate custom orthotic insoles in their own facilities. This is an advantage for the patient, as modifications to insoles and orthotics can be done quickly on-site.

What Does A Physical Therapist Do?
A physical therapist (Doctor of Physical Therapy) works with you to address the biomechanics of foot pain caused by illness, deformity, or injury. A DPT specializing in foot and ankle dysfunction will assist you in developing healthy movement habits, including stretches and exercises to help your foot function at its best.
Often, deciding to see a physical therapist for foot pain will come through a recommendation from your primary foot care provider, like an orthopedist or podiatrist.
If you have had foot surgery, your physical therapist can work with you to rehabilitate the muscles and tendons as you heal. Your physical therapist can also address foot pain caused by an irregular gait using a combination of stabilizing and flexibility exercises over a series of visits.
The goal of physical therapy is to help you learn to help yourself. By educating patients about the nature and structure of the foot, a qualified physical therapist can empower those who suffer from post-surgical or chronic foot pain to make physical activity and footwear choices that can reduce foot pain and lead to a healthier lifestyle.
Many larger physical therapy offices will have a foot specialist, and many offer off-the-shelf and/or custom orthotics.

What Does A Chiropractor Do?
If you are experiencing foot, ankle, or knee pain due to bones or joints that are out of alignment, a visit to the chiropractor can be helpful. Before making any kind of adjustment, your chiropractor will examine the bones and ligaments of your foot and ankle to be sure you are not suffering from a break, tear, or sprain as these injuries do not respond well to chiropractic treatment.
Joint Problems.  If you feel as though your ankle, toe, foot, or knee joints are jammed and unable to flex as freely as usual, chances are that a chiropractor can help address the issue. A simple series of manual adjustments can free your joints and allow unrestricted movement that is pain-free.
Nerve Issues.  If a pinched nerve is causing your foot or ankle pain, your chiropractor may use a combination of deep-muscle stimulation (stim), massage, and gentle manipulation to release the tension and free the nerve from compression.
Spinal Issues.  When your foot pain is due to a spinal irregularity, a chiropractor can help to align your backbone and restore balance to your gait.
Some chiropractors sell insoles, and some take impressions for custom orthotics. Be wary of practitioners with little training who send out for custom orthotic fabrication. All custom orthotics are not created equal. It is easy to spend hundreds of dollars trying to get quality from someone who lacks the required knowledge and experience.

The Bottom Line On Fixing Foot Pain
Ultimately, the best course of action for most serious foot issues is to visit a qualified podiatrist or orthopedist first. These foot care providers can give you a proper diagnosis and may recommend other care providers. If your problem is easily fixed with mechanical, non-surgical therapy, a pedorthist may be your best choice.
How Insoles Help Fix Foot Pain
Depending on the cause of your foot pain, treatments may include physical therapy, a bone or joint adjustment, medication, orthotic shoe inserts, stabilizing footwear, or surgery.
If you have common biomechanical irregularities that can lead to foot pain, insoles can help correct them and keep you pain free. When you're looking for the right insole, there are a few things you want to consider:
A Flawless Fit.  Insole arch heights often come in one size fits all, however arch heights vary widely. Find an insole that offers various arch heights, and select the arch height that mimics the contours of your foot. 
Firm Support.  While cushy or gel inserts can feel good to start, they just don't work in the long run. To keep your feet from causing you pain, you need medical-grade support that is firm and flexible. 
Doctor Approval.  If you're having foot issues, your first stop should be a medical provider. Insoles, whether semi-custom, over-the-counter or otherwise are not a replacement for a doctor. 
Durability and versatility.  An orthotic insole should last as long as you need it to. Having to replace an entire insole when the top cover wears out isn't friendly on your wallet or the environment. Tread Labs insoles are made with a unique two-part system that allows you to keep your arch support and replace only the top cover, whenever you need.
Get started finding your flawless fit with our Find Your Fit tool. You'll be on your way to living foot pain free and back to doing the things you love.
Questions? Drop us a line at hello@treadlabs.com. We're here to help.